British Billionaire John Whittaker Just Lost $350 Million in a Day
(Bloomberg) -- British billionaire John Whittaker's investment company is nursing a $356 million one-day loss after abandoning its pursuit of Intu Properties Plc.
Intu shares plunged 39 percent in London after a group including Peel and Brookfield Property Group said on Thursday that after almost two months of negotiations, it wouldn't make a bid for the U.K. mall owner. Peel's 27 percent stake in Intu declined to $551 million, from $907 million a day earlier, according to the Bloomberg Billionaires Index.
Whittaker, 76, said he remains a committed Intu shareholder, citing the opportunity to add to the company's property assets by building homes, hotels and offices next to its malls. Peel Group originally acquired almost 20 percent of Intu's forerunner, Capital Shopping Centres, in 2010 after engineering a deal to sell the company the Trafford Centre mall in Manchester.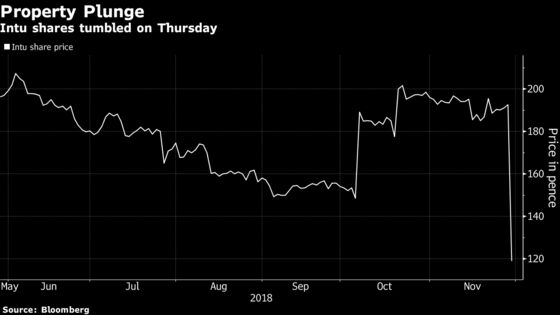 That transaction was put together as CSC sought to fend off an approach from Simon Property Group Inc. Simon had offered 425 pence a share for the company, a price it has failed to reach ever since. In its defense, CSC argued it was worth 625 pence a share.