Canada's Billionaire Westons Reshuffle Empire, Tighten Control
(Bloomberg) -- Canada's billionaire Weston family is shaking up its empire, selling a historic bakery division it failed to scale up and bringing heir Galen G. Weston back at the helm of the country's largest grocery chain.
George Weston Ltd. is selling Weston Foods, cutting off a business that'd been in the family since the 1880s to focus on its supermarket and drugstore chains at Loblaw Cos., as well as its vast real estate holdings. A separate statement named Weston, Loblaw's executive chairman, as chairman and president of the grocery chain when President Sarah Davis retires on May 6.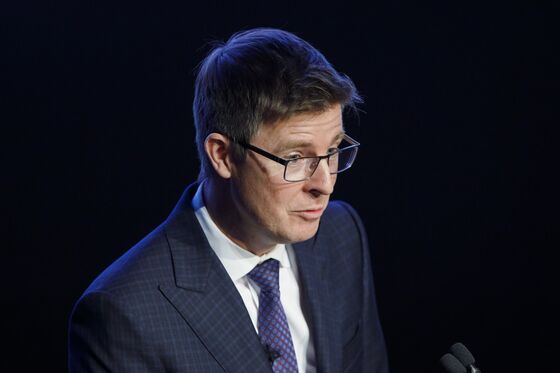 "The sale of Weston Foods will allow me to dedicate renewed time and energy at Loblaw as we increase our momentum in both our bricks-and-mortar network, and our leadership in digital and data," Weston, who's also chairman and chief executive officer of George Weston, said Tuesday in the statement.
The reshuffle cements his power by returning him to the dual role he previously held at Loblaw while bringing along two seasoned executives in the process. That follows another significant power gain that got little notice when announced on Christmas Eve, when he succeeded his father W. Galen Weston as the controlling shareholder of Wittington Investments Ltd., the closely held company that controls George Weston.
The elder Weston's wealth is estimated at about $10 billion, according to the Bloomberg Billionaires Index. The younger Weston had previously described his father's health as "not good" in a blog post last year. That post also announced the end of a temporary pandemic pay bump to employees at its supermarkets and pharmacies -- a move that triggered immediate backlash.
Shares of Toronto-based George Weston surged 5.3% to C$107.86 at 2:31 p.m. trading in Toronto, its biggest jump since April. Loblaw shares also rose 3.5% to C$69.32, its highest since October. Loblaw's stock has lagged Canada's S&P/TSX consumer staples index in the past year, despite a revenue jump during the pandemic.
George Weston's most valuable asset is its 54% stake in Loblaw. It also owns 17% of Choice Properties REIT, the country's biggest real estate trust by market value, which owns retail properties and residential developments.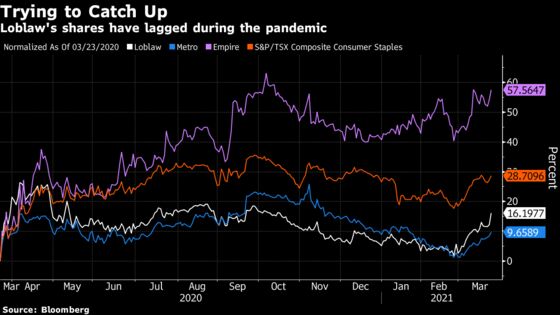 Loblaw's management changes see former Metro Inc. executive Robert Sawyer joining as chief operating officer and Chief Financial Officer Darren Myers departing, with his role taken on by George Weston's President and CFO Richard Dufresne.
The changes "signal what is likely to be a heightened focus on operational efficiency and productivity, which has been somewhat lacking," RBC Capital Markets analyst Irene Nattel said in a note to investors.
George Weston hired Canadian Imperial Bank of Commerce and Houlihan Lokey Inc. to sell Weston Foods, which makes bread, doughnuts and other baked goods under a variety of brands including Wonder Bread. Proceeds will likely be returned to shareholders through stock buybacks over time, according to the company statement.
George Weston had sought ways to make the food division larger and was said last July to be exploring an acquisition of ailing Swiss baking company Aryzta AG.
"We spent last year exploring opportunities to create a step change in Weston Foods' scale that would allow it to become a truly meaningful part of GWL value," Weston said Tuesday on a conference call with analysts. "But in the end we did not find the right opportunity. Instead, it's now clear that pursuing a sale represents the best way to unlock Weston Foods' potential."
Weston Foods had revenue of C$2.1 billion ($1.7 billion) last year, the company said. It contributes about 4% of George Weston's revenue, a Scotia Capital analyst estimated in December. Adjusted earnings before interest, taxes, depreciation and amortization were C$200 million last year.
"It really hasn't been growing and is not a overwhelming strategic fit," said Chris Kerlow, a portfolio manager at Richardson Wealth in Toronto who owns George Weston and Loblaw shares on behalf of clients. "Narrowing their focus and adding cash to balance sheet improves my outlook."