Tycoon Kellner Boosts Moneta Stake as Takeover Haggling Starts
(Bloomberg) -- Billionaire Petr Kellner is poised to become the biggest owner of Moneta Money Bank AS but he still needs to convince more shareholders to let him take control of the Czech lender.
Kellner's PPF Group NV seeks to combine its Air Bank AS and affiliated financial assets with Moneta, creating one of the largest retail banks in the country. PPF said on Thursday a recent tender offer will increase its stake in the Prague-traded lender to over 28% from less than 1%, if approved by the regulator.
The richest Czech will use his enlarged influence in Moneta to try to overcome initial resistance from some owners, who see the proposed merger as unattractive. The fact that less than a third of shareholders agreed to sell their shares could put pressure on PPF to improve the conditions in negotiations with Moneta, according to analyst Michal Krikava at brokerage Patria Finance AS.
"The relatively tepid response to the voluntary buyout is slightly reducing, in our view, PPF's chances of pushing through the second phase of the transaction under the originally proposed terms," he said. "We think the negotiations will produce a more favorable share-exchange ratio that would be acceptable for a significant part of shareholders."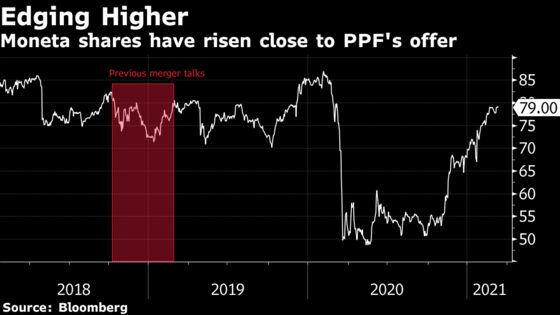 Moneta shares dropped 0.3% to 79 koruna on Thursday, staying slightly below the 80 koruna level offered by PPF in the voluntary buyout, first announced in January.
With a net worth estimated at $15.9 billion, Kellner controls businesses in areas including telecommunications, manufacturing, media and biotechnology. His main financial asset is consumer-lending group Home Credit, with China as its largest market, and the Moneta takeover would give him a bigger foothold in traditional retail banking in his home country.
Some Moneta investors have said Kellner's proposal seemed to overstate the value of his assets, which was the reason for a failure of talks about a differently structured merger in 2019. Air Bank Group, which mostly operates online, on Thursday countered such views by saying it has grown bigger in the past two years and expected to double its profits by 2023.
Read More: Air Bank Sees Profit Surge as Billionaire Owner Plans Merger
Moneta Chief Executive Officer Tomas Spurny has endorsed the proposed deal, saying his bank will negotiate the terms after a due diligence. He also pledged to try to convince dissenting shareholders.
"PPF seems to have thought this through and be better prepared than it was two years ago," said J&T Banka AS analyst Milan Lavicka. "Still, at first sight at least the terms don't seem to be much more favorable and it won't be easy to persuade other shareholders. I think the odds of the merger succeeding are roughly 50-50."