Billion-Dollar IPOs Spur Huge Rallies in Some Indonesia Stocks
(Bloomberg) -- Two blockbuster billion-dollar public offerings of tech unicorns set for later this year in Indonesia are fueling demand for affiliated stocks, sending their shares to multiyear highs.
Retailer PT Matahari Putra Prima has surged 929% this year while TV operator PT Elang Mahkota Teknologi gained 65% in the same period. Matahari is 4.7% owned by ride-hailing giant PT Aplikasi Karya Anak Bangsa, better known as Gojek. The company plans to go public by the end of this year after a merger. Elang Mahkota Teknologi is an investor in Microsoft Corp.-backed e-commerce company PT Bukalapak.com, which is planning to list in the U.S. and Indonesia, people familiar with the matter have said.
Retail investors are buying the stocks amid forecasts that the two listings could eventually boost Indonesia's stock market capitalization by about $40 billion, according to Thendra Crisnanda, head of research at MNC Sekuritas. Individuals currently account for 60% of the total number of investors in the local market, compared with 33.8% a year ago, exchange data show.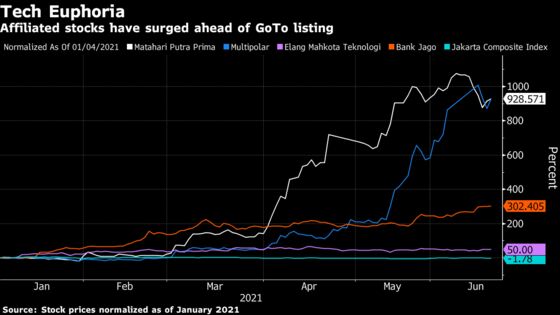 Southeast Asia's largest economy will see two of its largest home-grown unicorns offer shares to the public for the first time, boosted by the stay-at-home trend that's lifted tech and e-commerce firms.
Gojek will merge with PT Tokopedia, an online shopping platform, to create an entity called GoTo with a combined value of about $18 billion before its IPO, according to people familiar with the matter. Crisnanda expects the valuation to expand to around $35 billion after the IPO.
Bukalapak.com may raise as much as $800 million from a local offering where it could be valued at up to $5 billion, according to a report by Reuters. IFR has reported the listing could come as soon as July.
Among other stocks jumping ahead of the offerings are Matahari's parent PT Multipolar -- which has surged 914% so far this year -- and PT Bank Jago, which is 21% owned by Gojek and has jumped 297%.
Digital unicorns in Indonesia rely on many local partners to run their businesses, creating "super-app ecosystems," Crisnanda said. Matahari runs virtual outlets via Tokopedia, while Bank Jago will soon offer its financial services as part of Gojek's platform.
State-owned PT Telekomunikasi Indonesia, whose unit PT Telekomunikasi Selular has invested $450 million in Gojek, however is being overlooked, according to Hariyanto Wijaya, head of research at Mirae Asset Sekuritas Indonesia. The telecommunication provider is set to benefit from the GoTo IPO once its valuation is disclosed in the fourth quarter, he said. The stock is little changed this year.