Bill Gross Sets Record With $10 Million New York Stamp Sale
(Bloomberg) -- Stamps from bond billionaire Bill Gross's collection sold for $10 million in New York on Wednesday evening, a record for a single-day auction dedicated to philately.
The group was offered by Robert A. Siegel Auction Galleries Inc., the first in a series of charitable sales of Gross's stamps over the next two to three years. All but three of the 106 lots sold. The top item was a center-inverted block of four stamps from 1869 that fetched $737,500. Prices include an 18 percent buyer's premium.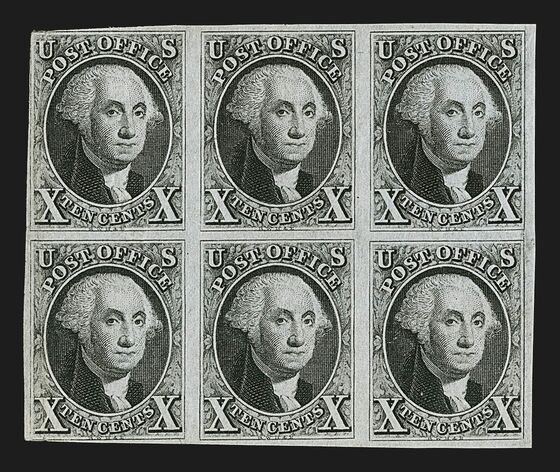 "A lot of these iconic items were bought by a billionaire and now they are dispersed among the riffraff," said Arthur Przybyl, chief executive officer of Ani Pharmaceuticals Inc. Sitting in the first row, he won the night's second-most-expensive item: a blue Hawaiian missionary from 1851 that brought $619,500. "I lost a lot, but I won the stamp I really wanted."
Gross, 74, has the most complete collection of stamps issued by the U.S. Postal Service, with individual stamps, blocks of them, and stamped envelopes. One album has hundreds of examples from the first U.S. federal postage issue in 1847.
"This is only the tip of the iceberg," said Gordon Eubanks, a tech entrepreneur, who spent more than $1.2 million on at least seven lots, including the unique "Bible Block" of six 10-cent stamps from 1847, for $590,000. It was estimated at $500,000 to $700,000.
Gross, a bond portfolio manager at Janus Henderson Group Plc, has built and sold several top stamp compilations since he began collecting in 1992. He previously raised $27 million for charity from stamp sales, including Swiss and British treasures. Now he's unloading the U.S. items, his biggest prize. All proceeds from the auctions will go to charities, Gross has said.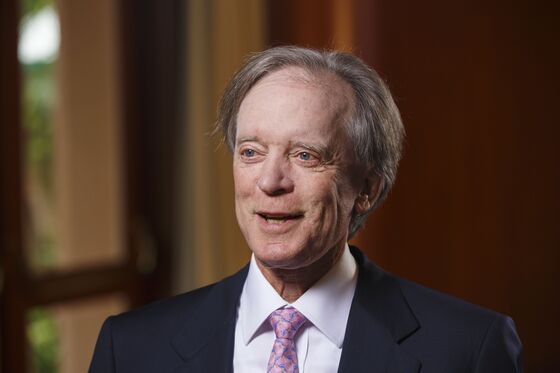 His collection was valued at $42.2 million, according to court papers filed last October as part of a divorce settlement with Sue Gross. After the couple divided their assets, including multiple homes and artwork, he retained a personal net worth estimated by Bloomberg at $1.6 billion.
The money manager amassed the core of his U.S. collection in 1993, when an important trove of U.S. stamps owned by Mitsubishi UFJ Financial Group Inc. Chairman Ryohei Ishikawa came up for auction. Gross bought more than $2 million of stamps at the event. Over the years, he's pounced on every important collection that came to the market.
"Bill Gross had the financial wherewithal and ambition to do it," said Christopher Rupp, a New York-based philatelist who snapped up about a dozen lots on behalf of clients. "It's a once-in-a-generation sale."
The auction took place in an ornate drawing room of the landmark Lotte New York Palace hotel and was attended by about 135 people. The event had a jovial atmosphere. Jokes flew.
Someone suggested that an envelope with an 1869 stamp known as "Beer Mug" would be perfect for Brett Kavanaugh, the embattled Supreme Court nominee who acknowledged youthful affinity for the beverage. It fetched $10,030, doubling the high estimate.
When the hammer fell at $37,500 on an envelope stamped with an image of an elephant, another person remarked, "You can buy a real elephant for that much."
Were the stamps a good investment for Gross? Many did well if you compare hammer prices, said Charles Shreve, who advised him over the years. An 1864 presidential campaign card signed by Abraham Lincoln that fetched $10,000 in 1995 went for $55,000.
A block of 20 Pan-American stamps with inverted centers fetched $472,000, doubling from 1994, Shreve said.
Not all lots were successes. A cover featuring a strip of five 5-cent stamps from 1847 and an 1851 3-cent "Beaver" stamp was among those failing to draw bids. It was estimated at $600,000 to $800,000.
Eubanks snatched a unique 1847 envelope with 5-cent and 10-cent stamps addressed to Belgium for $224,200, below the low estimate of $300,000. "Wow," he said after the hammer fell, then fist-bumped his neighbor.
"A few years from now, these prices will look like bargains," Shreve said.
The proceeds from the auction will benefit Doctors Without Borders and the New York Times Neediest Cases Fund, the auction house said.