Bill Gross's Backfiring Trade Finally Pays Off in Coronavirus QE
(Bloomberg) -- The trade that famously bedeviled Bill Gross in 2018 is finally coming good this year.
A wager that policy at the world's two largest central banks would start to converge -- and that benchmark yields on U.S. and German government debt would follow suit -- proved a widowmaker for the legendary fund manager.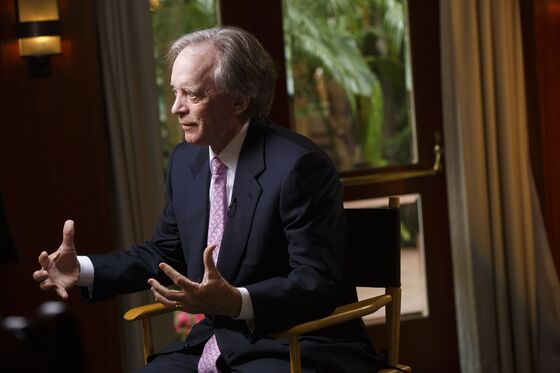 But the shock of the coronavirus pandemic is finally forcing policy makers down the same path, albeit not quite the way Gross expected.
U.S. government yields have been falling fast toward German peers after the Federal Reserve slashed rates and moved quickest and furthest into a new phase of quantitative easing. The European Central Bank already had negative rates so held off from a cut, and was slower to ramp up stimulus measures.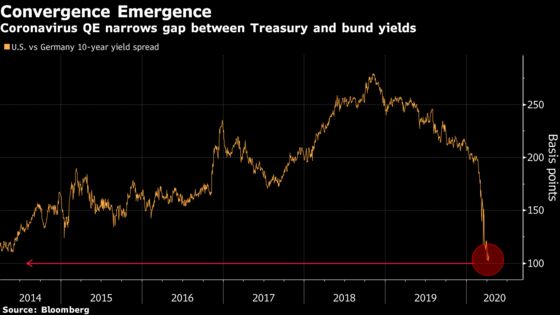 Robeco money manager Jeroen Blokland saw the developments ahead of time, and used futures to bet on convergence. It helped offset March losses in Blokland's Multi Asset Growth fund, which has an allocation of 17.5% to government debt. The portfolio was down 12.5% last month compared with 14% for the MSCI All-Country World Index.
"It worked better than expected, and more importantly actually faster," said the head of multi-asset strategy at the Rotterdam-based firm, who has already taken profits on the trade.
Timing-wise, he might have called it just right. At Commerzbank AG, strategists have also been fans of convergence, but now caution that the spread narrowing is likely to be capped close to 100 basis points because Treasury yields probably won't fall beyond 0.5%. The gap Wednesday was about 106 basis points in London morning trading.
"It will probably require a further deterioration in macro fundamentals" to narrow more, said Christoph Rieger, the head of fixed-rate strategy at the German bank.
The spread has widened since the end of last week, rising again on Wednesday as the 10-year Treasury yield climbed to 0.725% while bunds yields dropped to minus 0.345%. In the U.S., the White House was said to be developing plans to get the world's largest economy back in action, while the number of new coronavirus cases in Germany rose for the first time in three days.
Convergence in 2020 is a different story to the narrative taken up by Gross, who retired last year. He expected an uptick in inflation and growth pressures to push European yields higher. The money manager's conviction in the trade was one reason the Janus Henderson Global Unconstrained Bond fund nursed losses in the second quarter of 2018.
Structural drivers can push the yields even closer together, according to Mizuho International strategist Peter Chatwell. He reckons Treasury yields will fall faster than those of bunds as everything from central bank purchases to growing pension investments keep cash flooding into the world's safest government debt.
"The recent widening is noise," he said. "The tightening trend will continue."