Bill Gates, Pearl Jam Back Carbon Fee in Washington State Vote
(Bloomberg) -- Oil companies fighting a Washington State ballot measure that would impose the nation's first fee on carbon dioxide are squaring off against some formidable foes -- from rock band Pearl Jam to Microsoft Corp. founder Bill Gates.
Ballot initiative 1631 would impose a fee on refineries, utilities and other producers of CO2 emissions of at least $15 per ton starting in 2020 if voters approve the measure on Tuesday. State officials estimate it would raise $2.3 billion by 2025 for clean energy spending.
Opponents say the measure unfairly targets the oil and gas industry while exempting the state's other large polluters and, therefore it would be ineffective at curbing pollution. Environmentalists -- who have been joined by business leaders and celebrities in support -- say the oil companies are being hypocritical given that some have publicly supported actions to fight climate change, including BP Plc, which has backed carbon dioxide pricing yet is the largest contributor in the campaign against the fee.
Campaign contributions on the measure have topped $46 million, with the oil industry accounting for $31 million of that, according to state public disclosure filings. That makes it Washington's most expensive ballot initiative since records have been kept, according to Ballotpedia.org, a nonpartisan politics website that tracks such measures.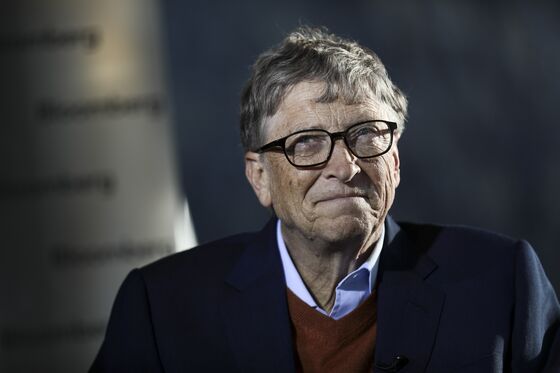 "These campaigns aren't just battling for Washington, but for future measures that could go on the ballot elsewhere with similar policies," said Josh Altic, the group's ballot measures project director, in an email. "The opposition is trying to preempt future efforts."
Top backers of the effort include the Nature Conservancy, an environmental group based in Arlington, Virginia, which has given more than $3 million to support the measure, and the League of Conservation Voters, a Washington, D.C. nonprofit. Microsoft co-founder Gates has donated a million dollars to the cause, as has Bloomberg LP founder Michael Bloomberg.
Washington state-based musicians, including Grammy award-winning rapper Macklemore, and rock band Pearl Jam, have voiced support through public events and statements.
"We can't wait for our polarized governments to be decisive," Pearl Jam guitarist Stone Gossard wrote on the Seattle-based band's website. "A fee on the largest polluters in our state to help the communities most impacted by climate change, while supporting clean energy projects, is the right next step."
Oil companies have contributed 99 percent of the $31 million raised to oppose the carbon fee, with BP leading donations with $12.9 million. Oil refiners Phillips 66 and Andeavor -- some after it was bought by Marathon Petroleum Corp. -- have given $7.2 million and $6 million respectively to the campaign. Refiners Valero Energy Corp., Koch Industries Inc. and the Washington, D.C. trade group American Fuel and Petrochemical Manufactures have also contributed about a million dollars each.
BP has joined with other oil companies, such as Exxon Mobil Corp. -- which is not listed in state records as contributing on the ballot measure but is a member of the petrochemical manufacturers trade group -- in proclaiming their support for a carbon price.
The company said in a letter sent earlier this year it "attempted" to work with the sponsors of initiative 1631 "to create an effective plan" but it cannot support the measure because it would "disrupt" the state's economy and wouldn't achieve significant reductions in carbon emissions.
"BP has long believed that the threat of climate change is an important long-term challenge that justifies action," Jason Ryan, a BP spokesman said in a statement. "We are committed to working with policy makers to develop a fair and robust carbon pricing program that will lower carbon emissions in the State of Washington."
BP and other opponents take issue with plan's exemption for a coal-fired power plant, an aluminum smelter and pulp and paper plants in the state.
"It shouldn't be any surprise they are funding our campaign," said Dana Bieber, a spokeswoman for Vote No on 1631, said of the oil and gas industry. "The way the proponents wrote the measure they exempted all the other large polluters leaving only energy companies and their customers on the hook."
She said the measure would increase costs for Washington families by $440 in the first year alone.
Nick Abraham, a spokesman for Yes on 1631, a coalition supporting the carbon fee, disputes that figure, and said the initiative covers 18 out of 20 of the state's largest polluters. The oil and gas industry is "by far" the largest polluter in Washington, he said.
"I think it's pretty disingenuous for the oil industry to point fingers at other folks when they are not only the largest polluter in the state but also the largest polluter in the world," he said in a phone interview. The coal-fired power plant in question is scheduled to shut down in 2025 as part of deal with the state, Abraham added.
Backers of the measure, including the Washington Environmental Council, say the oil industry's opposition is motivated by protecting their profits, especially if a successful vote in Washington leads to similar initiatives in other states or on a federal level.
"I think they realize states have power to take action and build momentum for a national solution," said Becky Kelley, the council's president.
Oregon's state legislature is expected to take up a carbon price next year, she said.