Bill Ackman's Starbucks Bet Is Buzzworthy
(Bloomberg Opinion) -- In the search for higher returns, Bill Ackman just reached for a cup of coffee.
Bloomberg News reported Tuesday that the investor has taken a stake in Starbucks Corp. worth about $900 million. It isn't clear whether he plans to push for changes, but either way, there's a reasonably good chance this bet ends up as a winning one for his hedge fund, Pershing Square Capital Management.
Starbucks shares have barely budged so far this year as investors have tried to make sense of some mixed signals about the chain's prospects.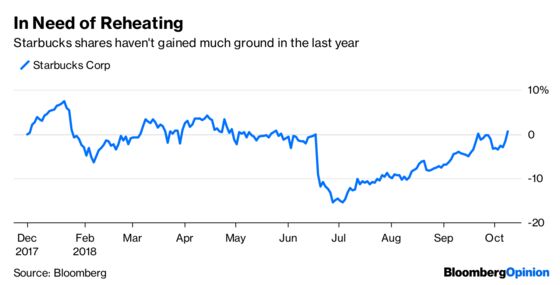 The coffee giant undeniably has some challenges right now; I've noted before that its recent slowdown in China is concerning, and so is its struggle to drum up more sales in its home market in the afternoon hours.
But Starbucks appears to have a firm grasp of these problems. And CEO Kevin Johnson has proven himself to be a capable leader who can steer the Starbucks ship without recently departed chairman Howard Schultz standing by his side.
Importantly, Starbucks was early to realize that the battleground in the restaurant industry is increasingly centered on technology, effectively creating a blueprint for mobile order and pay that I suspect many chains are looking to emulate. The industry leadership it has built in this area should help it keep a leg up on competitors in the race to adapt to dining patterns being reshaped by mobile payments, third-party delivery apps, and more.
I do think a bet on Starbucks is riskier than Ackman's other recent retail investment, the home-improvement chain Lowe's Cos. Marvin Ellison, a one-time senior leader at Home Depot Inc., recently became CEO of Lowe's and has solid plans for helping it gain fresh momentum. And the home-improvement sector generally looks more stable than the restaurant industry, which has been dogged by lackluster traffic trends. 
But all in all, Starbucks is a smooth bet, and should have a good finish.
This column does not necessarily reflect the opinion of the editorial board or Bloomberg LP and its owners.
Sarah Halzack is a Bloomberg Opinion columnist covering the consumer and retail industries. She was previously a national retail reporter for the Washington Post.