Biggest Fortunes Tied to China Stocks Cut $10.4 Billion in a Day
(Bloomberg) -- The spread of the coronavirus to China's stock market Monday erased more than $10 billion from the collective net worth of the richest 15 people whose companies trade on the mainland.
Midea Group founder He Xiangjian lost $1.8 billion, the most among that group, according to the Bloomberg Billionaires Index, as shares of the appliance manufacturer tumbled 8.9%. He was followed by Zhang Fan, whose fortune dropped $1.2 billion after his Shenzhen Goodix Technology Co., a maker of biometric-authentication equipment for mobile phones, plunged 10%, the downside limit for a single day.
Four others on the list also control companies whose shares slid by the daily maximum. They include Zhou Qunfei, the chairman of smartphone-screen maker Lens Technology Co., and Hengli Petrochemical Co.'s Fan Hongwei.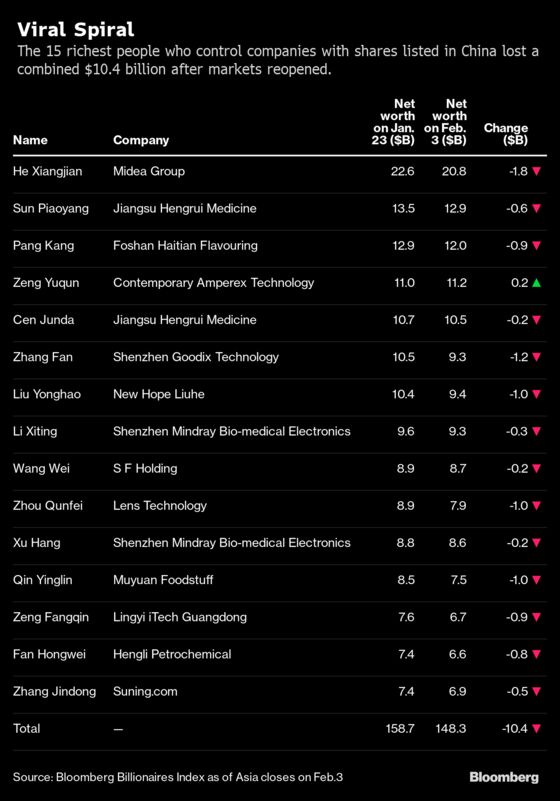 The benchmark Shanghai Stock Exchange Composite Index opened sharply lower after a 10-day break for the extended lunar new year holiday, and tumbled 7.7% on the day, while the Shenzhen Component Index slumped about 8.5%, the most since 2007.
Hao Hong, chief strategist of Bocom International, said no one should have been surprised by the selloff as the rapidly spreading coronavirus was responsible for at least 361 deaths through Sunday.
"Chinese asset prices didn't have a chance to reflect what was going on regarding the virus spread," he said in an interview with Bloomberg TV.
Just 22 of the 500 companies listed on the Shenzhen index posted gains Monday, including Contemporary Amperex Technology Co., which advanced 3.7% after striking a supply deal with Tesla Inc. The gain added $200 million to the net worth of the electric-vehicle battery maker's chairman, Zeng Yuqun, who ended last week as Hong Kong's ninth-richest person with an $11 billion fortune, according to Bloomberg's wealth ranking.