Biggest China ETF Sees Inflows Surge as State Are Said to Intervene
(Bloomberg) -- More money is flowing into the world's largest exchange-traded fund tracking Chinese stocks than at any time since the boom-and-bust in 2015, as state investors were said to have been stepping in to stem a market rout.
The Shanghai-traded China 50 ETF has received about $1.19 billion this October, as the Shanghai Composite Index heads for one of its worst months since January 2016. Other mainland large-cap funds including China CSI 500 ETF and the Hong Kong-traded CSOP FTSE China A50 ETF have also seen a surge in inflows. China's so-called national team of state funds has been buying stocks in a targeted fashion over the past week, including purchasing large-cap stocks on Friday and Monday, according to people familiar with the matter.
China has announced a series of measures this month to shore up confidence in the market and arrest declines. The government has a long history of stepping in to support equities via the national team during periods of extreme volatility or around significant political events. Inflows into the large-cap ETFs come after two funds linked to the Chinese government sold all their holdings of stocks and bonds in the third quarter.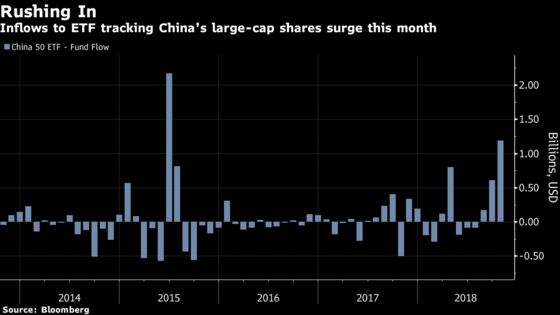 "The national team might be switching gear to passive investment," said Dai Ming, a Shanghai-based fund manager with Hengsheng Asset Management Co. Active investment creates "market noise and systemic risks as some investors bet the national team will always be there to prop up stocks. Stabilization funds invested through passive funds will not only smooth out market volatility but also save them from the moral risk."
Chinese stocks are among the world's worst performing this year, hampered by the trade dispute with the U.S., a slowing economy and a weak yuan. Concerns over the risk of pledged shares triggered a fresh round of selling this month.
The last time China 50 ETF saw inflows of at least this size was during the Asian nation's epic stock market bubble in June 2015, when more buying was seen in the subsequent month as equities crashed.