Biggest Bitcoin Fund Provider to Offer Different Crypto Trusts
Grayscale Investments LLC, the company behind the world's largest Bitcoin fund, is offering new trusts to invest specifically in five different cryptocurrencies.
The trusts are delving into still-niche corners of the cryptocurrency universe. Three of the funds will invest individually in the cryptocurrencies Chainlink, Filecoin and Livepeer. One will hold Basic Attention tokens that run on the Ethereum network, while the fifth will invest in coins of the virtual-reality world known as Decentraland.
The trusts are the crypto giant's first since early 2019, and come after a "robust process" of assessing potential investor demand as well as the integrity of the underlying protocols, according to Grayscale Chief Executive Officer Michael Sonnenshein.
"At any one time, we're probably maintaining a list of what could be 30 products, could be 40 products that we're interested in bringing to market," Sonnenshein said in an interview. "We're trying to always reconcile where we may find compelling opportunities in the digital assets ecosystem and trying to reconcile where investors are interested in deploying capital."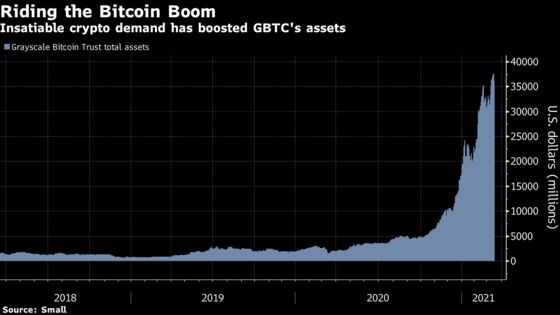 The new products bring Grayscale's total single-asset lineup to 13, with the $34 billion Grayscale Bitcoin Trust (ticker GBTC) the largest.
With Bitcoin's price hitting new highs, an increasing number of investors may be hesitant to jump in, fearing they'd be getting in at the top of the market. Other coins Grayscale selected have much smaller market values, and some investors may see them as a more attractive entry point right now.
Basic Attention tokens track users' time and attention on digital properties, as a way to determine how to distribute advertising money. Chainlink -- whose token is also Ethereum based -- has a technology that essentially delivers price feeds into various decentralized-finance apps.
Meanwhile, Filecoin is a data storage protocol in which users pay to store their files, while Livepeer is billed as a decentralized content delivery network. Lastly, the Decentraland Trust will hold MANA tokens, which can be used to buy virtual plots of land in Decentraland.
"There are many Grayscale products that have historically been a little bit before their time, before they began to resonate with investors sufficiently," Sonnenshein said.