Big Tech Bulls Are Vindicated Even After Fed Pulls the Trigger
(Bloomberg) -- Investors gobbled up megacap technology stocks Wednesday even as the Federal Reserve took a more hawkish stance than expected, doubling the pace of stimulus rollbacks and projecting three rate hikes next year.
Apple Inc. was the hot pick, rising as much as 2.9%. The world's largest company by market value is roughly 2% short of hitting a $3 trillion valuation. Megacap peers Microsoft Corp. and Google-owner Alphabet Inc. also rallied off day's lows and were about 5% away from their all-time highs. The tech-heavy Nasdaq 100 was the best performing major average, rising 2.4%.
The strength in those stocks in the face of hawkish Fed commentary shows how much investors want to own high-quality companies with track records of profit growth even with the risk of rising rates, according to Michael Mullaney, director of global market research at Boston Partners.
"I'm guessing those megacap, Faang-like growth names will continue to do OK unless we get a significant spike in interest rates," he said, highlighting the lackluster move in 10-year U.S. Treasury yields, which remain below 1.50. He sees 2% as a threatening level. 
Markets were well positioned for the event and cut some of risks before hand, according to Chris Murphy, co-head of derivatives strategy at Susquehanna International Group,. "Now that the event/overhang is over we are beginning to see a little bit of market strength after the event," he said.
Tech valuations have soared to levels last seen during the late 1990s dot-com bubble, which has made some investors risk-averse. The Nasdaq Composite Index, home to some of the most expensive tech stocks, is down 1.9% since its Nov. 19 peak while the broader S&P 500 is up 0.1% over the same time.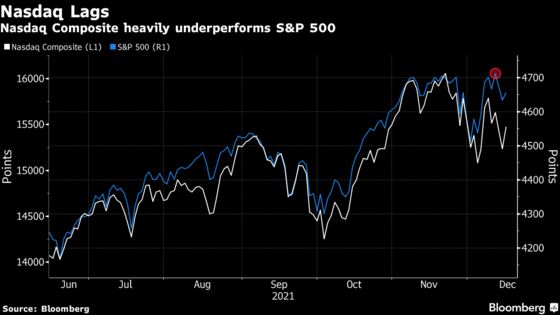 What's more, two-thirds of the Nasdaq's 3,600-plus stocks are trading below their average price for the past 200 days, an indicator that signals to chart watchers that the index is in a long-term downtrend. High-growth technology stocks make up more than half of the benchmark.
Some companies like Crowdstrike Holdings Inc. and Coupa Software Inc. have seen their shares fall more than 25% from their all-time highs.