Big Oil Consumers Start to Lock-in Prices as Brent Surges to $80
(Bloomberg) -- The rise in oil prices to $80 a barrel is starting to cause concern across boardrooms, with some big industrial consumers, including airlines and shipping companies, starting to buy more insurance against rising energy prices.
The increase in so-called discretionary consumer oil hedging, after a three-year period of low prices, is still relatively incipient, but has picked up over the last couple of weeks, according to traders, bankers and consultants familiar with the matter who asked not to be identified discussing private deals.
"Consumers are hedging, which is supporting the back end of the Brent curve," says Thibaut Remoundos, founder of London-based Commodities Trading Corporation Ltd. "They will add to their hedges on price weakness."
The increase in hedging suggests that oil prices are flirting with a pain threshold for consumers, a potentially ominous sign for OPEC, which always keeps a watchful eye on demand growth. Michael O'Leary, the chief executive officer of top European airline Ryanair Holdings Plc, warned this week rising jet fuel prices were hurting his company and its peers.
"Spot prices close to $80 a barrel are going to lead to a significant shakeout in the industry as early as this winter," he told Bloomberg Television.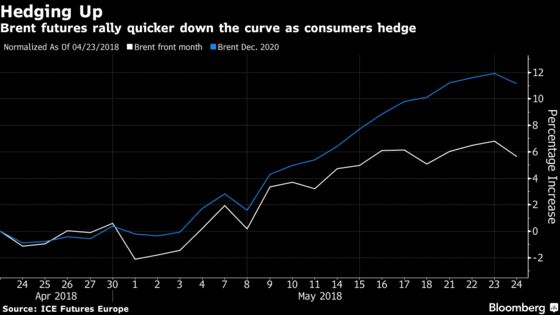 Oil consumers that lock in prices -- or hedge -- typically fall in two categories: those who are systematic, and buy insurance regularly regardless of the price of oil, and those who are discretionary, or opportunistic, buying at particular prices. At times, some companies combine both trading styles.
Shares of Norwegian Air Shuttle ASA, which took the bold decision to bet on falling prices, have slumped about 12 percent this month, a period in which jet fuel in northwest Europe jumped 5 percent.
"With the higher fuel price, we would expect some people to trim back fourth-quarter capacity and we'll be looking to do the same," Willie Walsh, the CEO of British Airways owner IAG SA, said on the company's May 4 earnings call.
The increase in consumer hedging helps to explain the increase in long-dated Brent crude futures, which have outperformed a rally in spot prices. Brent for December 2020 has risen by 11 percent so far this month, compared with more than 5 percent gain in the nearest contract. Traders also pointed to deals on the U.S. swap data repository as indicative of an heightened consumer activity.
"We've seen a lot of consumer interest," said Harry Tchilinguirian, head of commodities markets strategy at BNP Paribas. "With oil moving to $80, that has brought on the consumer demand."
The Organization of Petroleum Exporting Countries and its allies are set to review their production policy June 22 in a meeting in Vienna, trying to balance their desire to completely eliminate a glut in crude markets with the prospect of shortages later this year due to collapsing output in Venezuela and forthcoming U.S. sanctions to Iran.
For the first time in more than five years, Saudi Arabia and other oil producers are feeling the political pressure from consumer nations. U.S. President Donald Trump directed his ire against OPEC last month, saying in a tweet that "oil prices are artificially Very High! No good and will not be accepted!". India's oil minister recently expressed his concern about higher prices to his Saudi counterpart Khalid Al-Falih.
In Washington, Democrats are using high gasoline prices, approaching the $3 a gallon level for the first time since October 2014, to accuse the Trump administration of not doing enough to shield consumers. And in emerging countries from Brazil to Philippines, drivers are complaining about high prices.
For the last two years, oil prices have slowly recovered, raising from $40 to $80 a barrel. Those gains are now translating all the way along the oil futures curve, including contracts for delivery in late 2021, 2022 and 2023. The rise in long-dated futures may suggest that the 'lower for longer' mantra for prices has now come to an end.
"The resumption of consumer hedging and backend buying after several years" is pushing up long-dated oil prices, said Amrita Sen, chief oil analyst at consultants Energy Aspects Ltd. in London.