Big Bull Calls for Markets at Year-end Now Look Less Crazy
(Bloomberg) -- Bulls hoping for a late-cycle rally in risk assets are looking a lot happier this Monday than last.
The narrative that it's just too early for investors to position for the end of one of the longest expansions on record has been given a fillip from the cease-fire in the U.S.-China trade war, prospect for a pause in the Federal Reserve's interest-rate hiking cycle and moves to address a glut in oil supplies.
Valuations on assets that were beaten up in October and November have become more enticing, and fixed income less appealing -- witness the over 5 percent rally in futures on the S&P 500 Index in the past week, and Monday's jump in 10-year Treasury yields back above 3 percent.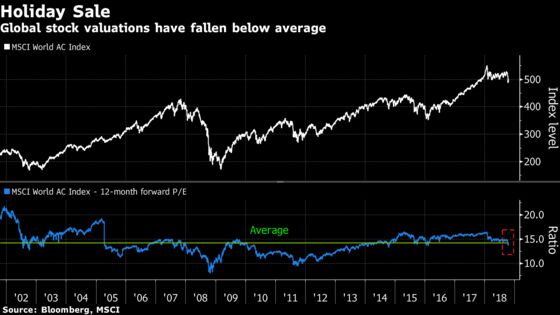 Time is running out, but a continued tilt toward risk could yet avert what by one measure was set to be the worst year for markets on record. In early November, Deutsche Bank AG strategists had calculated that 89 percent of assets had handed investors losses in U.S. dollar terms -- more than any previous year going back over a century.
For gauges from China's CSI 300 Index, down 24 percent year-to-date in dollars, and the MSCI Emerging Market Index, sitting on a 13 percent slide, it's surely too late to get out of the red. But for benchmarks from Japan's Topix to France's CAC 40 with single-digit percentage declines, there may still be a shot.
The Bloomberg Barclays U.S. high-yield corporate bond index already squeaked into the YTD green zone on Thursday -- before the 4 percent-plus surge in West Texas Intermediate crude seen Monday morning, in a boost for the energy names in the gauge.
Market strategists have a tendency of being optimistic -- Bloomberg surveys since 1999 show the consensus has never once predicted a down year -- and it would take a gain of about 7 percent for the S&P 500 Index to hit their target of 2,942 for the end of 2018. But the 1.7 percent advance in futures as of 10:40 a.m. in London would narrow the gap if reflected in the cash market in New York.
And some see room to run in coming weeks, after investors had built up cash positions earlier this quarter.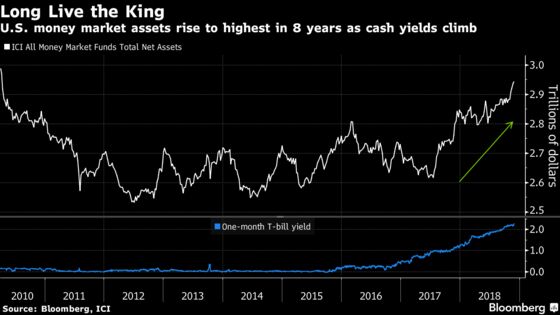 "There's a lot of potential for the rebound to go on," said Nader Naeimi, a Sydney-based fund manager at AMP Capital Investors Ltd. After not knowing whether to brake or accelerate for much of the year, "this is the first time you think you've got to go and put your foot on it -- just go," he said. "The biggest risk was the Fed and trade. That's being reassessed."
Naeimi said he's been buying emerging-market equities in Asia, has room to add more to those positions, and is looking to add to holdings in Latin America.
Chinese equities were hit particularly hard by the escalation in trade tensions, but look a lot better now that American tariffs won't be climbing to 25 percent in January on some $200 billion worth of imports. They are now rallying both onshore and in Hong Kong, with the Shanghai Composite and Hang Seng indexes closing about 2.6 percent higher Monday. Morgan Stanley upgraded their already-positive call on China stocks.
"We have a relief rally, and with good reason given the weakness of the past few months in Asia -- with share prices falling much sharper than fundamentals," said Andrew Gillan, head of Asia ex-Japan equities at Janus Henderson Investors in Singapore. "So a short term reversal is due."
Gillan likes Asian equities over the U.S. after the multi-year outperformance of American stocks.
Fed Chairman Jerome Powell's suggestion last week that the U.S. central bank is approaching the range of estimates for a neutral interest-rate has seen the greenback trading off its highs for the year -- potentially adding to the allure of emerging assets that have been pressured by rising dollar borrowing costs.
It's arguably been eight years since global equities saw a real Santa Claus rally, back when the Fed's QE2 stoked demand for risk assets and sent the MSCI World Index up over 7 percent that December. The gauge has averaged just a 0.4 percent advance over the past seven Decembers since then.
"We expect to see a positive market into the year-end now and that will maybe contribute to the seasonal sentiment rally that you may have expected," said Kerry Craig, a Melbourne-based global market strategist at JPMorgan Asset Management. "I won't be rotating my whole portfolio from equities into bonds at this stage, but I'll be thinking about having that short duration in your portfolio, maybe a little more cash than usual, could be more prudent in the year ahead."