Best Week in 2 Years Helps Redeem Patient Japan Stock Bulls
(Bloomberg) -- Japan's best weekly stock market rally in two years has got bears baffled. Bulls have only one message: You've been selling the wrong market.
The Topix index roared back to life, capping a gain of more than 4 percent in this four-day week, even as the U.S. and China pressed ahead with additional tariffs on each other's goods. Japan's rally followed a large selloff by foreign investors that had made the benchmark gauge one of the worst performers among developed markets this year. In another sign of how bearish things have been, short selling has accounted for over 40 percent of trading on the Tokyo Stock Exchange for much of 2018.
To bulls like Ryoji Musha of Musha Research Co. in Tokyo and Martin Malone of Mint Partners in London, it's always been a matter of time before Japan shorts are shown to be misguided. Concern over an all-out trade war has been overblown, while Japan's economy continues to grow at a slow but sustainable pace, they argue.
"We're not puzzled at all," Malone said in an email. To him, the horde of foreign investors who'd been shorting Japan were simply "wrong" and are now "shocked."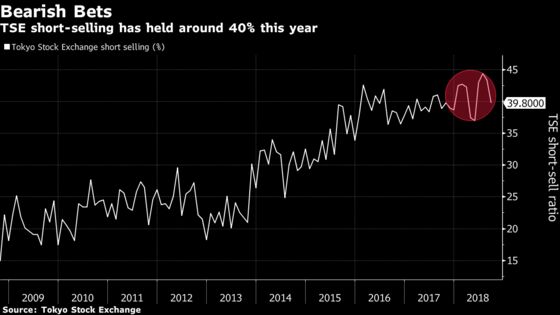 Malone said global investors are bound to aggressively buy back Japanese stocks over the next couple of months, following a $55 billion exodus so far this year. This is because Japan's solid macroeconomic environment, backed by robust earnings growth, hasn't changed while expansive fiscal and monetary policies are likely to stay intact for a while.
Musha is of a similar view, with a particular emphasis on how Japan's corporate sector is poised for long-term growth. The local equity market has suffered from a "huge mismatch" between low valuations and strong corporate earnings returns, according to Musha.
Return on equity for Topix companies has improved to around 9.5 percent from 7.4 percent as of the end of 2016, according to data compiled by Bloomberg. Meanwhile this year's selloff has pushed the gauge's 12-month forward estimated earnings valuation down to 13.5 times from 15.5 at the end of January.
A deeply-rooted "misperception" that the Japanese economy will give way to deflation and lead to an eventual collapse of local equities has been a drag, keeping investors blind to positive developments, according to Musha. Most recently, belief that Japan will be crushed in the escalating trade conflict between the U.S. and China has propelled bearish views, he said.
Japan's economy grew at the fastest pace in more than two years during the second quarter, as companies cranked up capital spending to meet global demand and cope with a severe labor shortage. Growth is expected to slow during the second half but remain steady well into 2019, when a sales-tax increase slated for October will pose a challenge to consumers.
The better-than-expected 11 percent jump in July core machinery orders helped highlight that robust capital expenditure is Japan's driving growth, according to Jonathan Allum, a strategist at SMBC Nikko Capital Markets Ltd. in London. This is one factor that stock bears may have been missing and could prove to be a catalyst for a rebound, he said.
The latest rally has been a good start. As of Friday, the Topix is down less than 1 percent year-to-date, paring a drop of over 8 percent as of March. The Nikkei 225 Stock Average has already moved back into the green, up 4.9 percent for 2018 to around 23,870. Mint Partners' Malone predicts the blue chip measure will reach 26,500 by Christmas, while Musha targets 27,000 by the end of the year.
With the 14-day relative strength index for both Topix and the Nikkei 225 above the 70 level seen as overbought, some investors think things may be heating up a bit too quickly.
"The recent run-up was too fast, so the upside of the market looks limited," said Masayuki Otani, chief market strategist at Securities Japan Inc. in Tokyo. "Some technical indicators show a short-term overheating, which could make it easier for some players to adjust positions."
Musha is undeterred by the odds of potential downward corrections.
"The correction in the first half was just one time off," he said. "I think this is beginning of long term rally, or maybe in the midst of a long term rally."