Being Too Bearish on Stocks Is Becoming a Hazard, Investors Say
(Bloomberg) -- Traders have found some good reasons for the most-bearish equity sentiment in almost three years. But as many investors brace for more bad news, a growing chorus of voices say the upside risk is being overlooked.
That's especially true in Europe, where volatile politics and slowing economic growth have sparked $62 billion of equity outflows this year. According to the likes of Legal & General and Barclays Investment Solutions, it's too soon -- and risky -- to turn completely defensive.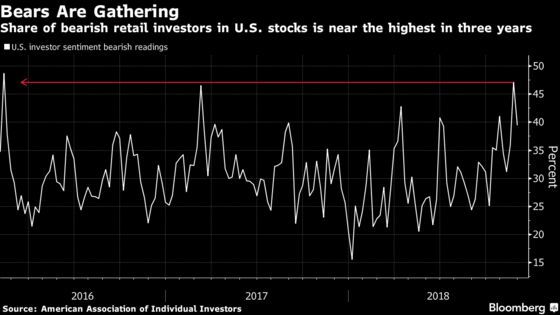 "Investors should fight their instincts and try to position against significant moves once they become heavily consensus," said John Roe, head of multi-asset funds at Legal & General Investment Management Ltd. "There's a risk too much pessimism is priced in too early as everyone tries to anticipate the end of the current economic cycle."
As this year comes to a close, investors are bracing for the end of the bull market and the risk of recession in such major economies as the U.S. and Italy. The fear of stumbling global growth that can curb corporate profits is so strong that it's outweighing positive trade rhetoric and a less aggressive Federal Reserve.
After a brutal October, traders continued rotating out of stocks and bonds and increasing their cash positions in November, a shift that appears to be peaking and could signal a return to equities, according to Barclays Bank Plc.
"Previous similar instances of a sharp re-allocation to cash produced good contrarian tactical buy signals for stocks," Barclays strategists led by Emmanuel Cau wrote in a note on Wednesday.
Fears of an economic slump have fueled the outperformance of defensive sectors such as utilities, and a rotation away from cyclical industries. But utilities is exactly the kind of sector that Legal & General's Roe recommends exiting now because a risk-off environment is likely to lead to further bond yield increases, which would in turn lure investors away from industries with higher dividend payouts.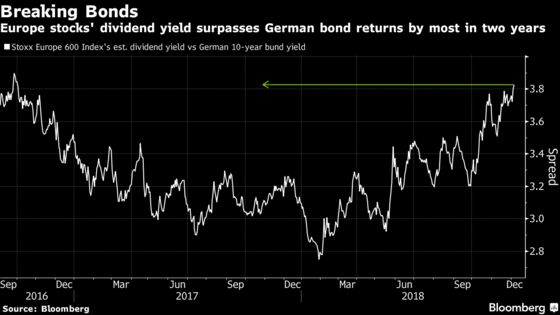 More and more strategists and fund managers are paying attention to the pariah sectors of 2018: financials and automakers. Carmakers, Europe's worst-performing sector this year due to the trade war, could be poised for a rebound simply because it's so under-owned, making it more sensitive to positive news, according to HSBC Holdings Plc strategists. Societe Generale SA also recommends holding European automakers.
Global financial shares are this year's biggest underperformers after mining stocks, but the normalization of interest rates gives investors like Kevin Murphy of Schroders optimism that bank profitability will rise significantly.
And while global equities are ending 2018 on a much more sour note than they did a year ago, the advantage investors have now is that they're much better positioned to absorb future shocks and surprises, according to William Hobbs, London-based head of investment strategy at Barclays Investment Solutions.
"The main problem for investors is that the next recession is still not visible on the horizon," Hobbs said by email. "For sure, profit growth is set to be slow, but if you throw together plausible estimates of dividend growth with currently available dividend yields, high single-digit percentage returns are perfectly plausible from this point."