Behind Trump's Tabloid King, a Connected and Flush Hedge Fund
(Bloomberg) -- David Pecker, America's tabloid king, owes a lot to his old friend Donald Trump.
But when Pecker arrived at the White House in July 2017 for dinner with the president, he owed even more to the financier that accompanied him: Anthony Melchiorre.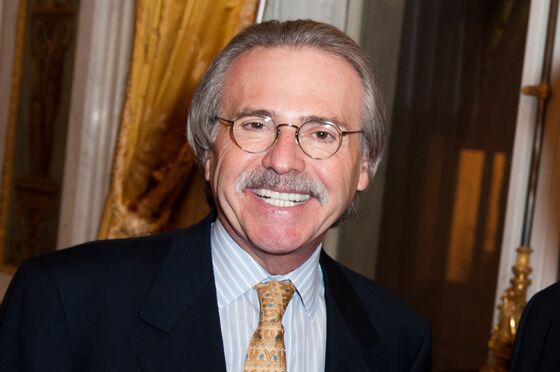 Pecker, chairman of American Media Inc., has since been drawn into a Trumpian drama worthy of the National Enquirer, his flagship supermarket tabloid. He has emerged as a key witness in the months-long investigation into payments to two women who said they had affairs with Trump.
Melchiorre, by contrast, has remained all but invisible -- which is precisely how he tends to operate.
Melchiorre and his $3.9 billion hedge fund, Chatham Asset Management, are the money behind American Media. Two years before Trump's stunning rise to the presidency, Melchiorre threw a financial lifeline to Pecker's company and walked off with about an 80 percent stake.
Now, American Media faces turbulence. The firm has been seeking to raise about $425 million of new bonds to refinance existing notes that come due starting in 2021, according to people familiar with the matter.
There are several signs that it may not be easy: Credit Suisse Group AG signed on for the task but is having second thoughts and is seeking to back out of arranging the debt, according to people with knowledge of the situation. Representatives for Credit Suisse and American Media declined to comment on the matter. Documents viewed by Bloomberg show that American Media has had only one profitable year in the last five years.
Pecker is under pressure too. On Tuesday, he resigned from the board of a Canadian newspaper company that has also been backed by Melchiorre's hedge fund.
Melchiorre is just one part of a broader financial ecosystem that has sustained American Media. Another player is billionaire hedge fund manager Leon Cooperman, who said in a telephone interview this week that Chatham executives introduced him to the investment.
"I bought in at a nice price, with a nice profit," said Cooperman, who owns less than 10 percent of American Media through his foundation. He added: "I happen to respect David Pecker."
But few have more at stake than Melchiorre, who runs his firm from a leafy New Jersey suburb that's a 30-minute drive from the Trump National Golf Club in Bedminster.
Even by hedge-fund standards, Chatham flies under the radar. But at a time when traditional newspapers are struggling, Melchiorre has emerged as an unusual -- and unusually successful -- player in old-school print media. His firm has also invested in McClatchy Co., whose titles include the Miami Herald.
Melchiorre also had some deep pockets behind him, garnering investments from major pension funds including the California Public Employees' Retirement System.
New Jersey's state plan, which has been a Chatham client for several years, said it will discuss its stake in the hedge fund at its next meeting on Sept. 27. Adam Liebtag, the acting chairman of the New Jersey State Investment Council, which sets policy for the $78 billion fund, said the pension fund has requested material from Chatham and had talked to its management. "We understand the concerns," Liebtag said in a telephone interview.
Melchiorre and Pecker didn't respond to requests for comment. An American Media spokesman said: "No one in the past 20 years has been more supportive of the print and publishing industry than Chatham Asset Management. The continued support and partnership of Chatham and Mr. Cooperman have been an extraordinary source of stability for AMI and allowed us to remain focused on the future and our continued growth."
Chatham has been "an investor in AMI since 2010 and has no involvement in the editorial process or the day-to-day business decisions of the company," the hedge fund said in a statement.
A former chief of global high-yield trading at Morgan Stanley, Melchiorre, 51, founded Chatham in 2003 and has outperformed peers.
Chatham sidestepped the financial crisis in 2008, losing just 2.6 percent in its main fund, according to an investor document. Hedge Fund Research Inc.'s Distressed Restructuring Index slumped 25 percent. Since inception, Chatham's main fund has returned an annual average of 9.6 percent. The index rose an annual average of 6.7 percent since 2003.
Pecker, a long-time Trump ally, has credited Chatham with saving him from financial ruin. In 2016 -- while Trump was running for president and, according to federal prosecutors, the future president's lawyer and fixer, Michael Cohen, was arranging hush payments to two women linked to the candidate -- Pecker spoke of his difficulties.
"I had a very, very leveraged balance sheet where I was just on the brink myself, four times," Pecker told the Toronto Star that year. Since 2010, American Media has filed for bankruptcy once and shored up its balance sheet with at least one debt exchange.
Chatham "gave me enough air cover" so American Media could push beyond its traditional print business and invest in the web, he said.
Now, Pecker has reached an immunity agreement with prosecutors. American Media allegedly made "catch and kill" deals to keep Trump's supposed affairs out of public view. It's unclear if prosecutors could bring charges against the media company, which has offices in New York and Boca Raton, Florida.
Pecker's cooperation is a remarkable turnabout, for him, the company and its investors.
American Media isn't the juggernaut it once was. Like many publishers, it has struggled. From March 2014 to March 2016, the National Enquirer's circulation fell to 364,000 from 516,000, according to a company filing. This year, the Enquirer has averaged 244,000 copies, according to the Alliance for Audited Media.
The company has lost a combined $224 million over the last five fiscal years, according to the documents viewed by Bloomberg. In the year ended March 2018, American Media's net loss narrowed to $72 million. The company's adjusted earnings before interest, taxes, depreciation and amortization rose to $96 million from $71 million a year earlier.
This year, the company expects continued declines in circulation and advertising revenue, according to the documents.
That hasn't stopped Pecker from trying to expand the business. In June, American Media acquired titles from Bauer Media USA, publisher of In Touch and Life & Style, and last year it bought Us Weekly, spending about $180 million for those deals.
Now, American Media is trying to raise cash. The company has about $137 million of bonds coming due in 2021 and $534 million maturing in 2022. Most of the latter is almost entirely owned by Chatham and the other two owners.
But for the distressed investors like Chatham who've kept the tabloid publisher afloat, the gambit has so far paid off. One of the bonds that refinanced American Media's capital structure in 2016, the $137 million of 5.5 percent second-lien bonds due in 2021, climbed steadily over the past two years from their discounted issue price of 73 cents on the dollar. The notes traded as high as 113 cents in December before slipping back below 100 in more recent months, according to the bond-price system Trace.
Holders of the company's bonds include Apollo Investment Corp., Franklin Resources Inc., Highland Associates Inc., and Legg Mason Inc., according to filing data compiled by Bloomberg. Representatives for Apollo, Franklin and Legg Mason declined to comment. A representative for Highland did not immediately respond to a request for comment.
"So far, they've made every coupon payment they've had to make and the bonds have done very well. I've had a nice capital gain," Cooperman said. "I'm not here as an advocate for the print media business. I'm an advocate for capital gains."