Behind S&P 500's Slog to 2,900 Is a Return to Normal Fund Flows
(Bloomberg) -- Another hundred-point milestone is in reach for the S&P 500. Getting there would conclude one of the more strenuous trips for investors during this bull market.
The benchmark equity index rose as much as 0.8 percent Monday, coming within two points of surpassing 2,900 for the first time ever. While it'd be the third round-number milestone of the year, this trip took five times as long as the first two. At 222 days, the latest 100-point journey would be the second-slowest since the S&P 500 erased its financial crisis losses in 2013 and eclipsed 1,600 for the first time in May that year.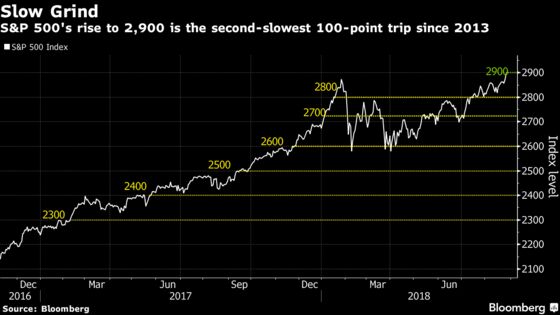 While no model explains everything, the seven-month slog corresponds to a significant cooling in investor risk appetites. While January saw investors hurl near-record sums of new money at the market, the period since then has been one of restraint. About $10 billion has been added this month to exchange-traded funds that focus on U.S. equities, a quarter of January's total.
At the same time, one source of purchasing power has never been stronger.
At Goldman Sachs Group Inc., the unit that executes share buybacks for clients just saw a pickup in orders after companies came out of a blackout period that can restrict discretionary share repurchase during reporting season. Total dollar amount of repurchases surged 56 percent from a year earlier, according to strategists led by David Kostin.
In some respects, it's a return to a market contour that has persisted throughout the 9 1/2-year bull run, a period in which companies have dwarfed every other source of demand. Bank of America goes so far as to liken buybacks to the three rounds of bond purchases by the Federal Reserve known as quantitative easing.
"U.S. buybacks accelerate and effectively becomes QE4," BofA strategists led by Michael Hartnett wrote in a note earlier this month.