Bears Take Charge as Emerging-Market Stocks Surrender Momentum
(Bloomberg) -- Emerging-market equity bulls have all but lost the will to fight, at least for now.
Technical studies show the benchmark MSCI Emerging Markets Index has broken through key support levels, halting a fragile rebound that started in October after a $5.7 trillion slump. The resumption of tension between the U.S. and China over trade has proved the last straw for a rally that had been losing momentum since the end of January.
Even before technical signals turned negative, a deterioration in corporate performance across developing nations had called for a halt to stock gains. The index level of 1,104 yet again proved to be too strong to break through, just as it did numerous times in the past seven years.
This study, which combines price momentum with volatility swings to gauge turning points, shows the MSCI index has fallen below the lower band, meaning it's trading two standard deviations away from its 20-day moving average. In simpler terms, emerging-market equity investors have the weakest hand in almost four years and price swings are only getting wilder.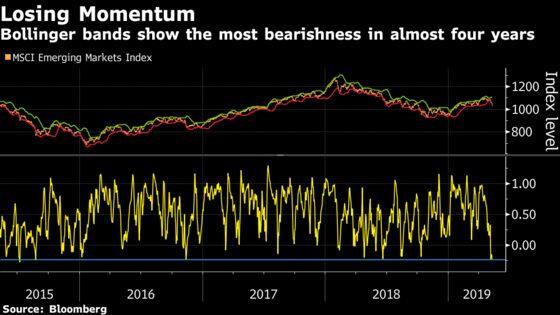 The Fibonacci chart shows stocks have given up more than a third of their gains from the rebound, breaching the key 38.2 percent retracement level. That suggests the benchmark index could fall to 1,014.54 points, a 1.8 percent drop from current levels. A further breach could take the measure below the psychological 1,000 mark.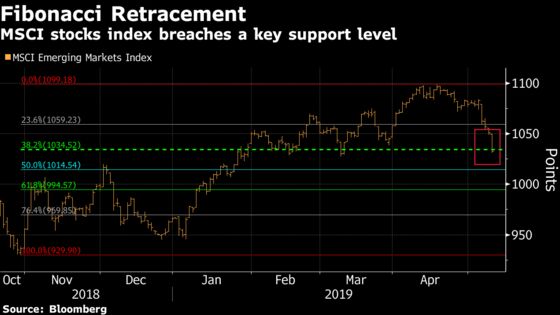 There's been an uneasy calm in emerging-market stocks for the past three months as equity gains turned less convincing amid concern global growth is faltering. In early April, the International Monetary Fund cut its estimates for economic expansion in most countries, though it was harsher on developed markets.
As persistent strength in the dollar capped bullishness, signs of strain were seen in the moving-average-convergence-divergence, or MACD, chart. Even as the MSCI index made higher highs and higher lows, the MACD line reached lower highs. That bearish divergence indicated the gains could reverse any time.