Bears Return as European Stocks See Second-Worst Exit on Record
(Bloomberg) -- So much for last week's optimism that investors were finally coming back to European stocks.
The region's equity funds experienced their second-largest outflows on record in the week through Feb. 13, bleeding $5.9 billion, according to Bank of America Merrill Lynch's note, which cited EPFR Global data.
Investors continued fleeing developed-market equity funds, including those dedicated to U.S. and Japan, whereas emerging-market stock funds enjoyed inflows for the 19th of the past 20 weeks. Overall, investors rotated into fixed income assets, with investment-grade bond fund inflows leading the pack, while mortgage-backed security funds saw record high inflows.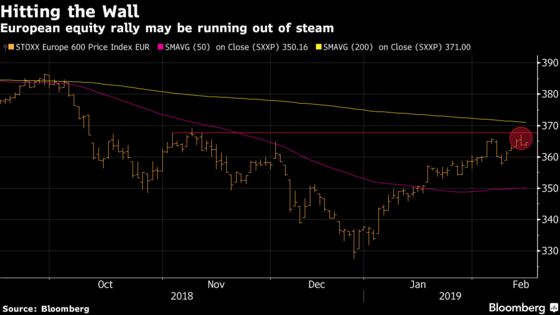 "Buyers' strike in equities continues," BofAML strategists including Michael Hartnett wrote in a note, saying investors are seeking yields in fixed income.
Market participants have been shunning equities, with global stock allocations in February falling to the lowest level since September 2016, signaling a deep lack of conviction in the sustainability of the new-year rebound. Europe is especially vulnerable to investor worries because of messy politics spanning from Brexit and Italy, as well as slowing growth rates.
Although many traders have been staying on the sidelines, European and global equities have staged an impressive rally this year. Optimism soured on Thursday and markets fell as global economic growth concerns resurfaced and investors questioned the potential for progress on the U.S.-China trade dispute.