Investors Raise Their Short Bets Against S&P 500 ETF
(Bloomberg) -- Bears are licking their chops as U.S. stocks fail to hold a bid.
Short interest in the SPDR S&P 500 ETF Trust -- also known as SPY, the world's largest exchange-traded fund with more than $250 billion in assets -- has jumped to 5.3 percent or shares outstanding, according to data compiled by Markit.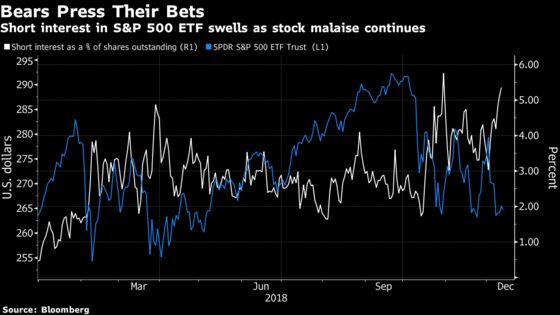 That's the second-highest level of bearish bets against the fund in 2018. Short interest as a percentage of shares outstanding peaked at 5.8 percent on Oct. 30. Before that, the metric hadn't exceeded 5 percent since the run-up to the 2016 U.S. presidential election.
Swelling bearish bets show sentiment is turning against a U.S. equity market that's enduring violent intraday swings and remains mired roughly 10 percent below its Sept. 20 record close.
But both bears and bulls may be frustrated for a while, Michael Purves, chief global strategist at Weeden & Co. warned in a note Thursday. He contrasted this uptick in short positioning with relative calm in the derivatives market, suggesting that equities aren't poised for a big move in either direction in the near term.
"Tail skew continues to hover at extremely low levels, reflecting a lack of panic," he wrote. "These signals continue to suggest that the path forward is more likely to be a choppy sideways winter (a horizontal, or time based correction) rather than a plunge below key support (a vertical, or price based correction)."