Even a Gain in China Can't Get Asia's Stock-Market Bulls Going
(Bloomberg) -- It's been a day of swings between losses and gains for Asian stocks. And even after China's benchmark closed marginally higher on Wednesday, the regional gauge is in the red -- marginally, too.
It was one of those days when the Shanghai Composite Index opened lower, spiked 1.8 percent higher and ended up paring its advance to 0.3 percent. The MSCI Asia Pacific Index, which briefly entered bear-market territory, was down 0.2 percent as of 4:25 p.m. in Hong Kong, while U.S. index futures fell as much as 0.9 percent as Europe traders came online.
It's worth noting that Chinese stocks might be in a bit of a "one step forward, two steps back" mode as the market holds on to its title of world's wildest market. While there have been some days of solid rallies over the past couple of months, the Shanghai Composite Index is still down 21 percent since the end of December. The only caveat is that China's national team might just be waking up to heavier support for the rest of the year.
First a recap on what happened overnight:
Expectations for a one-on-one meeting between President Donald Trump and China's Xi Jinping are already being lowered, with officials from both sides increasingly pessimistic about prospects for a resolution to their deepening trade war.
Trump criticized the conflicting accounts from Saudi Arabia and said he's passing responsibility to Congress for responding to the killing of Jamal Khashoggi.
Fed's Raphael Bostic said he supports further gradual interest-rate hikes and warned of running the economy hot.
Trump stepped up his attacks on Fed's Powell and said he "maybe" regrets appointing him to the post, the Wall Street Journal reported citing an interview with the president.
The rolling bear market in U.S. equities is getting hard to shake off after Caterpillar Inc. slumped as it held to its earlier 2018 outlook that disappointed analysts.
Some strategists are suggesting investors hold on to cash.
Tech stocks in Asia were literally flat as shares of chip companies fell after Texas Instruments Inc. gave disappointing guidance.
Where to from here? The earnings season will be key. All eyes will be on U.S. tech stocks as companies including Amazon.com Inc., Google's Alphabet Inc., Twitter Inc. and Microsoft Corp. are scheduled to report this week.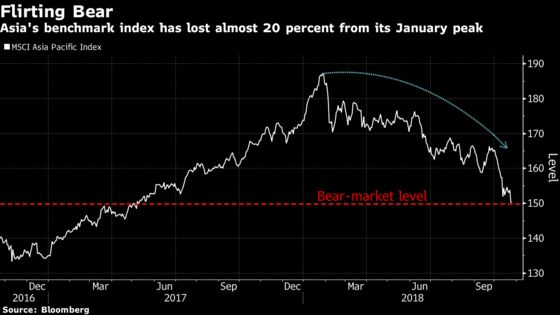 For the most part, it's been a pretty mixed day: India's S&P BSE Sensex Index climbed, propelled by the steepest oil drop in three months, while Japan's Topix index was little changed, with retail and tech gains outweighing the drop in energy stocks. Japan investors may be waiting for earnings to kick into full gear -- the ratio of short bets on shares traded on the Tokyo Stock Exchange climbed to a record of 50.8 percent as the Topix closed on Tuesday at its lowest level since September 2017.
Southeast Asia saw the biggest declines, with investors selling out of PT Telekomunikasi Indonesia and PT Matahari Department Store, taking the Jakarta Composite Index to a one-week low. Vietnam's VN Index and Thailand's SET Index fell by more than 1.8 percent.
Here are some other notable moves:
K-Pop Rides High on Music Charts But Flops in Stock Market
Nexon Shares Slide After China Said to Halt Special Approval
Asia Chip Stocks Decline After Texas Instruments Warns on Demand
Super Retail Falls Most in 8 Months Amid Slowdown in Auto Sales
Japan's Topix index little changed; Nikkei 225 up 0.4%
Hong Kong's Hang Seng Index down 0.4%; Hang Seng China Enterprises little changed; Shanghai Composite up 0.3%
Taiwan's Taiex index down 0.2%
South Korea's Kospi index down 0.4%; Kospi 200 down 0.4%
Australia's S&P/ASX 200 down 0.2%; New Zealand's S&P/NZX 50 down 0.4%
India's S&P BSE Sensex Index up 0.3%; NSE Nifty 50 up 0.4%
Singapore's Straits Times Index up 0.3%; Malaysia's KLCI down 0.3%; Philippine Stock Exchange down 0.9%; Jakarta Composite down 1.1%; Thailand's SET down 2%; Vietnam's VN Index down 1.8%