Bears Chased Out of Stocks as S&P 500 Obstacles Fall by Wayside
(Bloomberg) -- For all the velocity with which stocks tumbled into this year's red Christmas, they are rebounding with identical force.
Fueled by Federal Reserve Chairman Jerome Powell's softening on stimulus, the S&P 500 has jumped in 13 of 17 days, retracing half the bull market's near death experience and powering over chart lines that it previously plunged straight through.
The S&P 500 gained 1 percent as of 11:22 a.m. in New York Friday. With the Nasdaq and Dow Industrial Average also in the green for a fourth week, it's the longest streak of gains since August. On top of a more dovish Fed, bulls bet trade tensions between the U.S. and China are on the mend. Amid the longest government shutdown on record, stocks are proving the path of least resistance is higher.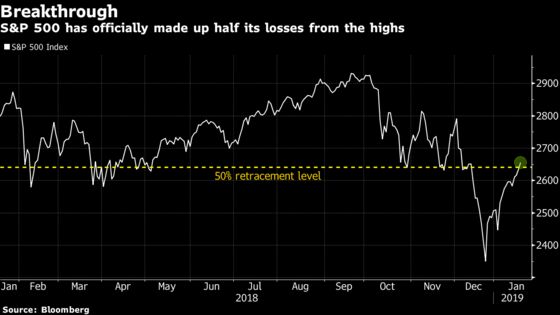 "You've seen a fairly significant shift in sentiment," said Andrew Kenney, chief investment officer of Delaware Life, which manages $37 billion. "The path of Fed policy has dampened volatility a little bit. You're starting to see that come through in asset prices."
Compiled below is a sample of feats the post-Christmas rally has achieved:
Twice a line of resistance for the S&P 500 during the three-month sell-off, the 50-day moving average has given way. So too have the same levels on the Nasdaq 100, the Dow average, and the Russell 2000 Index of small-cap stocks.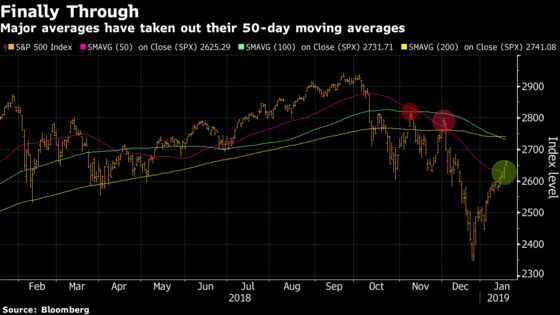 Nomura's Charlie McElligott predicted last week that if the S&P 500 were to rise through 2,632.46, trend-following quantitative funds known as commodity trading advisers, or CTAs, would flip from bears to bulls. Now safely above that level, his model suggests algorithmic quant funds could be adding fuel to the rally.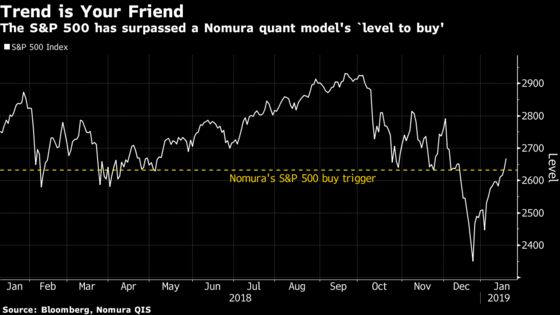 A 1.1 percent S&P 500 rally on Friday pushed several of the index's short-term indicators to extreme levels. About 96 percent of stocks in the S&P trade above their 20-day moving averages, the most since March 2016.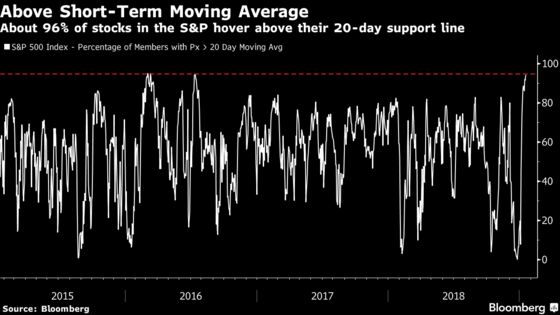 Financial stocks spearheaded this rally, gaining 5.6 percent, the most among the industry groups. The group has gained 13 percent over the past four weeks, in what was the best four-week period since 2016.