Bearish Won Bets Get a Boost as South Korean Outflows Intensify
(Bloomberg) -- South Korea's won slumped to its lowest in nearly a year on Tuesday but analysts say further losses are likely as overseas investors rush to sell local semiconductor shares and as Covid cases in the nation stay elevated.
Bearish sentiment around Korean assets intensified last week as global funds dumped record amounts of semiconductor stocks such as Samsung Electronics Co. on concern  memory-chip prices may have peaked.
Analysts see potential tapering by the Federal Reserve and yuan weakness also dragging the currency lower. The won is Asia's worst-performing currency this quarter with a loss of more than 4%.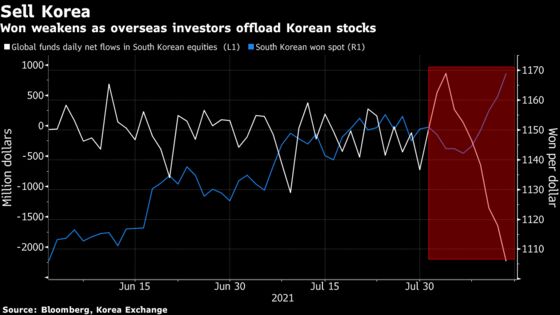 Here are some of their comments:
Kiwoom Securities Co. (Kim Yumi, market strategist)
Won may fall as low as to 1,200 per dollar as foreigners keep selling the nation's stocks but "the currency's drop beyond 1,200 is unlikely as that would require investors to question South Korea's economic fundamentals"
Korea's economic fundamentals remain firm thanks to steady exports
"Authorities may hold back any verbal intervention for now as foreign outflows are concentrated in just the chip sector"
"Vigilance against intervention may grow once the won weakens beyond 1,180 per dollar"
DB Financial Investment (Moon Hongcheol, fixed-income and FX strategist)
"Technicals show the won may drop to as low as 1,190 per dollar any time since the currency broke below 1,150"
Global funds are selling chip-related South Korean stocks amid "concern that the investments in tech devices and cloud services may have peaked"
"The Fed is increasingly leaning toward faster normalization" and Fed minutes due this week may be more hawkish, which may push the dollar higher
The yuan is also set to weaken, and the won is expected to track its losses
Citigroup (Gaurav Garg, economist)
Citi is pulling back from its bullish won exposure versus a basket of the U.S. dollar, euro and Australian dollar
"Sharp equity outflows driven by downward price revisions to semiconductor chips forecasts, concerns over local Covid cases and continuation of weak China data weighing on sentiment are apparent triggers for the sharp won underperformance"
While fundamentally, won's underperformance seems stretched, prefer to stay on the sidelines due to the price action
Mirae Asset Daewoo (Park Heechan, economist)
"In the short term, much of the selloff in local stocks is already priced into the won near 1,180 per dollar"
Massive foreign outflows from South Korea last week is "seen as exceptional"
South Korea's economic fundamentals remain unharmed, hence the selloff in stocks is expected to peak out soon
"Going forward, the key focus for markets will be the Fed's exit strategy"
"Won may drop to as low as 1,200 should strong U.S. jobs data raise the chance for faster Fed tapering"