Traders Return to Risk Despite Worst Growth Bets in Decade
(Bloomberg) -- Investors remain bearish on earnings and economic growth but are starting to get back into riskier assets, according to the latest fund-manager survey by Bank of America Merrill Lynch.
A net 52 percent of fund managers in the survey said they think global profits will deteriorate in the next 12 months, the worst profits outlook since December 2008 and a major reversal from 39 percent saying profits would improve 12 months ago.
Yet, money managers have stopped rotating into bonds from equities and returned to buying tech stocks and emerging-market assets, the survey shows. Although 60 percent of investors responding said they expect global growth to weaken over the year -- the worst outlook since 2008 -- they're primarily foreseeing secular stagnation in 2019, with just 14 percent predicting a global recession, according to Bank of America's note.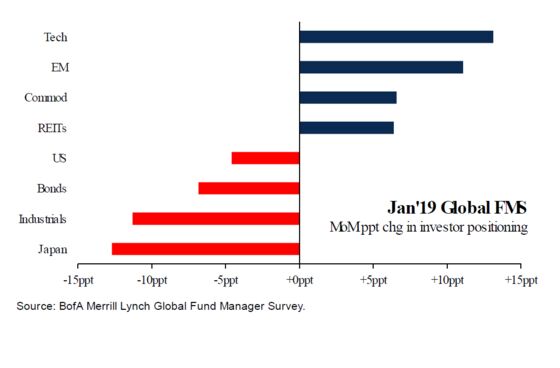 The survey was conducted from Jan. 4 through Jan. 10, with the global version polling 177 participants overseeing $494 billion in assets. The results mirror investors' mood at the start of this year, which has seen global stocks recover following turmoil at the end of 2018. Fund managers are getting back into riskier assets amid bets that the sell-off went too far and that a U.S. recession isn't imminent.
"The good news was inflation expectations plunged, allowing investors to discount a new dovish Fed and a bull steepening of yield curve," and it's "no surprise that January fund manager survey shows de-risking is over," Bank of America strategists, including Michael Hartnett, wrote in the report.
Survey shows major drop in inflation expectations, down to a net 19 percent expecting global CPI to rise over the next 12 months, a reversal from a peak of 82 percent in April 2018
Reduction in inflation expectations caused an inflection point in yield curve expectations; now only net 7 percent of investors expect a flatter curve, from 30 percent last month
Fund managers' concerns about corporate leverage remain at a 10-year high, with half of surveyed investors saying their preferred use of corporate cash is improving balance sheets and just 13 percent favoring a return of cash to shareholders.
The January survey also showed that investors are long cash, real estate investment trusts and healthcare, while being short U.K. and European stocks as well as industrials. Hedge fund respondents said their gross assets to capital is now below 1 for the first time since 2010, implying they are long cash and have reduced leverage, according to BofA.
The strategists see the "crowded" long position in the U.S. dollar as "vulnerable" as surveyed investors see the greenback as most overvalued since June 2002.