Be Cautious About Cheap U.K. Retail Stocks, Morgan Stanley Says
U.K. retailers' stocks are unlikely to sustain a bounce following this week's parliamentary election, according to Morgan Stanley analysts.
The FTSE 350 General Retailers Index has risen 11% since the start of October, compared with a 1.1% decline for the FTSE All-Share Index, as Prime Minister Boris Johnson said he saw a pathway to a potential Brexit deal. Even so, the gauge has yet to return to its level of before the June 2016 referendum approving Britain's withdrawal from the European Union, after consumers curtailed spending amid uncertainty about how the economy would fare.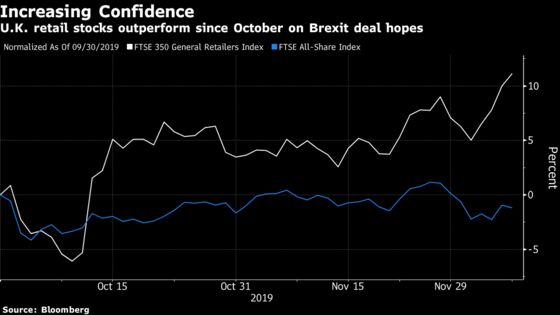 "We don't think the sector is as cheap and unloved as is sometimes supposed," Morgan Stanley analysts including Geoff Ruddell wrote Monday in a report to clients. "We would urge all but the shortest-term investors to be a little cautious."
Investors seem to be planning to increase holdings in consumer-exposed U.K. companies in the next few weeks, which would spur near-term share-price gains, the analysts said. Seven of the stocks the broker covers are already trading above their long-term average multiples, they said.
Dixons Carphone Plc, Superdry Plc and Marks & Spencer Group Plc are among some of the stocks that look cheap, but their recovery hasn't yet been proved, the analysts said. The companies' prospects over the next 12 months "depend at least as much on company-specific developments as they do on the U.K. consumer backdrop."