BBVA Posts Loss on $3.8 Billion Hit From Virus, U.S. Woes
(Bloomberg) -- Banco Bilbao Vizcaya Argentaria SA took a combined hit of 3.5 billion euros ($3.8 billion) for virus-related provisions and a second consecutive charge at its U.S. business to post its biggest-ever quarterly loss.
BBVA, which is focused on emerging markets in Latin America and Turkey, reported a first-quarter net loss of 1.8 billion euros. The virus impact alone accounted for about half of the 2.6 billion euros the bank set aside to cover loan losses. The shares fell as much as 6.1%.
The lender is joining other global banks in setting aside billions of dollars to deal with the future economic effects of the outbreak. BBVA -- along with bigger Spanish rival Banco Santander SA --already had one of the highest levels of provisions among European lenders, reflecting its exposure to volatile emerging markets.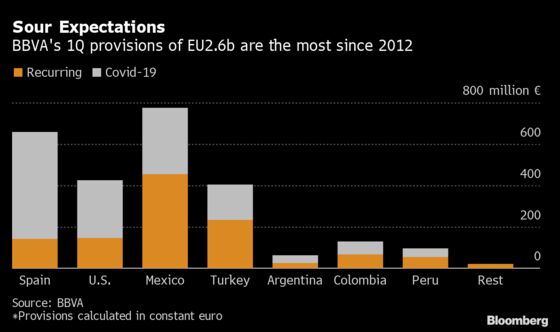 Mexico, which accounts for almost half of group profit, was the largest contributor with a total of 773 million euros set aside. Spain, where BBVA expects the economy to contract by as much as 10.5%, saw the biggest rise in provisions, with 517 million euros for the virus on top of 143 million euros in recurring provisions.
Provisions were calculated on expectations of a deep recession in second quarter, with the economy starting to recover after that, BBVA Chief Executive Onur Genc said on a conference call. "We did things a bit different to our European peers," he said. "We have front loaded all of the correlated provisioning in the first quarter."
BBVA's drop on Thursday pushed the decline this year to 40%. The stock was down 4.3% as of 12:18 a.m. while the 600 Banking Index was little changed.
The extraordinary provisions saw BBVA's capital ratio fall 90 basis points to 10.8%, giving it one of the lowest capital buffers in Europe. The bank said it will reduce its new target range to 10.8% to 11.3% from 11.5% to 12%. The European Central Bank has given lenders leeway to dip into capital reserves to allocate funds for more lending during the crisis.
What Bloomberg Intelligence Says
"The key negative of BBVA's results is the CET1 ratio, which plunged to 10.8% -- well below Spanish and European peers -- which will add to solvency concerns and postpone the return of dividends."

-- Georgi Gunchev, BI banking analyst

Click here to see the full report
BBVA said on Thursday it won't be paying a dividend on 2020 earnings in order to preserve capital.
In the U.S., the bank set aside 280 million euros for loan losses linked to the oil-and-gas industry. The global oil market has been roiled by a combination of a price war and a plunge in demand as economies shut down to contain the spread of the virus.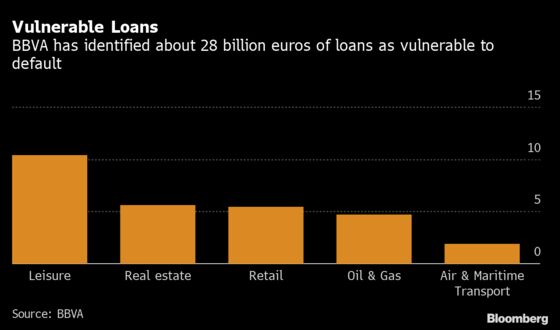 BBVA is strong in the U.S. southern "sun belt", especially Texas, giving it an exposure of about 13.4 billion euros to the oil and gas sector. It identified 4.6 billion euros of loans in that sector, mainly in the U.S., that are vulnerable to default.
The U.S. unit, which normally accounts for about 10% of group profit, posted a loss of 100 million euros. The business has been a continual headache for the bank. BBVA booked writedowns in 2009 and 2011 and last year took a 162 million-euro impairment after a push into consumer lending backfired.
Profit in Mexico, normally the bank's most consistent generator of income, fell 41% mainly due to provisions. But core revenue was also weak, with net interest income rising just 3% and fees declining by 1.4%
Turkey has proved to be BBVA's most problematic investment in recent years after a currency crisis in 2018 triggered a mass of loan defaults. BBVA in recent years has been seeking to reduce its portfolio of soured loans, a remnant from the financial crisis that peaked in 2012 after Spain's real estate market collapsed.
Spanish rivals also increased provisions in the quarter to account for coronvirus-related loan losses. Banco Santander SA on Tuesday said it would set aside 3.9 billion euros for loan losses, the most in its history. The bank said 1.6 billion of those provisions were for Covid-19-related soured loans. CaixaBank SA and Banco de Sabadell SA set aside 400 million euros and 213 million euros respectively specifically for the virus, eating into their profits.