BBVA Leads Europe Bank Declines on Mexican Fees Proposal
(Bloomberg) -- Spanish banks were hit for the second time in a week after the Mexican government proposed scrapping certain bank commissions, including ATM withdrawal fees.
Banco Bilbao Vizcaya Argentaria SA plummeted as much as 7 percent, the biggest intraday drop in two years. The lender was down 5.7 percent as of 4:25 p.m. in Madrid trading, the largest decliner in the benchmark Stoxx 600 Banks Index. Mexico accounted for more than 40 percent of its net income in the first nine months. Banco Santander SA, which also has a large Latin America presence, fell as much as 2.6 percent.
Under an initiative presented by the Senate majority leader, Ricardo Monreal, fees on ATM cash withdrawals and balance requests would be eliminated, in addition to commissions charged for printing bank balances and transfers to other banks. The proposals, which are in line with international practice, would be implemented gradually.
"This proposal is very important for BBVA as the fees from its Mexican operation are 4.8 percent of 2017 group revenues," Citigroup analysts Stefan Nedialkov and Jorg Friedemann wrote in a note to investors. If the banks receive no future fees from Mexico, "net profit estimates could decline by 20 percent for BBVA and by 6 percent for Santander," they said.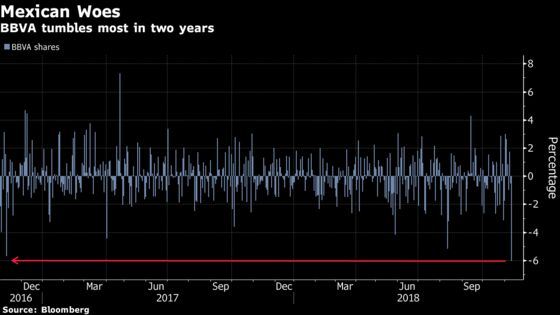 Spanish lenders are being whipsawed this week by domestic and overseas developments. Banks rallied on Wednesday after the Supreme Court struck down a ruling that they were liable for mortgage stamp duty payments, only for the government to later say it would change the law to make them liable for future payments.
Banco Sabadell SA dropped as much as 3.4 percent, the biggest intraday decline since Oct. 24.