Base Metals Off to Best Start to a Year Since 2008
(Bloomberg) -- Industrial metals, beaten down last year on trade concerns, are having the best start to a year since before the financial crisis.
A gauge tracking total returns in copper, aluminum, zinc and nickel has advanced the most in the first two months of the year since early 2008. The Bloomberg Industrial Metals Subindex Total Return index climbed 0.5 percent at 4:12 p.m. in New York, bringing this year's increase to 12 percent.
Prices that plunged last year on concerns that trade discord would erode global growth are getting a boost from indications of resilient demand and tight supplies. The economy in China, the world's biggest metals consumer, is showing the first signs of recovery after months of slowdown as stimulus measures start to kick in and stock and commodity rallies lift confidence.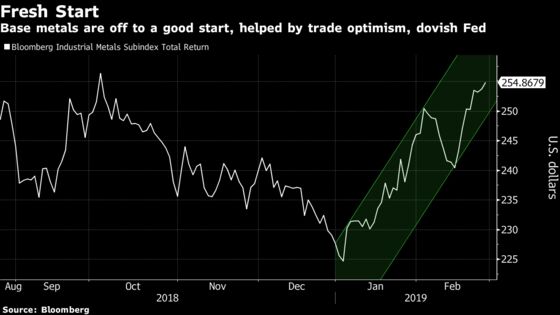 Recent optimism over U.S.-China trade talks, along with a dovish stance by the Federal Reserve that's eased concerns higher interest rates would slow the U.S. economy, have led to ''a quite strong performance'' in base metals, said Ryan McKay, a strategist at TD Securities in Toronto. He also noted heavy flows to base metals from commodity trading advisers since the turn of the year.
Copper touched a seven-month high this week, while lead prices climbed for a sixth day Wednesday as orders to withdraw inventories from the London Metal Exchange jumped by the most in two months. Exchange-traded fund investors are also benefiting, with assets of ETFS Industrial Metals, the largest base-metals ETF, rising to the highest since July.