Barclays Sees U.K. Stocks Losing, Regardless of Brexit Outcome
(Bloomberg) -- U.K. shares aren't going to beat their Eurozone peers, regardless of the outcome of the Brexit talks, says Barclays Bank Plc.
If a withdrawal agreement is completed by the end of the year, as is Barclays' base case, the pound is likely to rally. That would cap the outperformance of U.K. stocks, even if investors flock to the nation's assets, according to the strategists.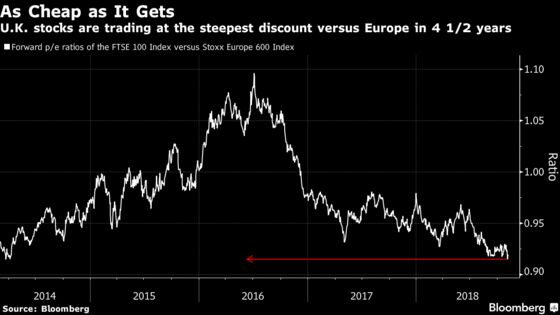 The pound gained on Monday following a Sunday Times report that Prime Minister Theresa May has secured concessions from Brussels to let her keep all of Britain in a customs union with the European Union. The FTSE 100 Index is down 11 percent this year in dollar terms, compared to a drop of 12 percent for the Stoxx Europe 600 Index. Investors have been staying away from European stocks in 2018, partly due to geopolitical concerns, including the Brexit talks.
"A deal could boost investors' appetite for U.K. and European equities," Barclays strategists, led by Emmanuel Cau, said in a note on Tuesday. "However, the correlation between the pound and the relative performance of U.K. equities versus their global and Eurozone peers remains firmly negative. It is thus likely that any bounce in the pound will hurt the relative performance of U.K. stocks."
But even if the talks collapse and the EU and the U.K. fail to reach a deal, the Barclays strategists believe that the correlation between stocks and sterling could turn positive, curbing any positive effect for equities from the pound's devaluation.