Barclays Sees More Selling to Come
(Bloomberg) -- The VIX spike this week has implications across markets, one of which is that volatility-control funds may have to engage in systematic selling. A lot of it.
Volatility-control funds, which attempt to maintain fixed portfolio volatility, will need to sell about $130 billion of equities to cut their exposure over the next couple of days, Barclays Capital strategist Maneesh Deshpande wrote in a note. Exchange-traded fund investors may sell around $40 billion over the next few days, he added.
"Some signs of capitulation are emerging, but we think that some more selling is yet to come," Deshpande said in the note, which was written after the close Thursday. The precipitous drop in stocks that day "was similar to the Feb 2018 sell-off in that there was indiscriminate selling across equities and the ratio of put-to-call volume increased significantly. However, there are no signs of ETF selling which accompanies sell-offs."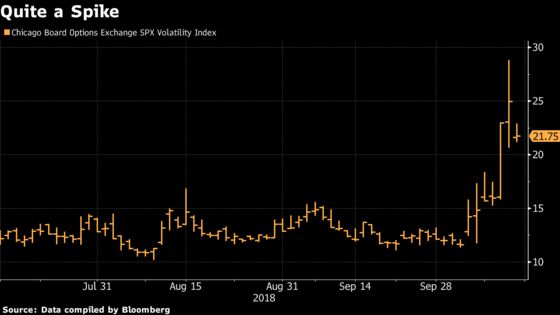 The S&P 500 dropped as much as 2.7 percent yesterday, quickly falling to lows in the New York afternoon before paring the drop and ending down 2.1 percent. At the same time, the Cboe Volatility Index, or VIX, spiked above 28.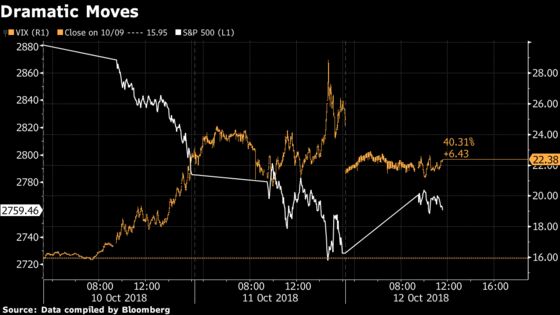 The sell-off in options this week has been "relatively orderly" in comparison with the market turbulence in February that was driven by the VIX complex, Deshpande wrote.
The SPX skew "has not steepened significantly despite the sharpness of the sell-off," Deschpande said. "But the market activity in SPX Put/Call option volume ratio has spiked and is showing some signs of capitulation among investors as they scramble to buy protection."