Past Peak Fear, Barclays Sees Upside for European Equities
(Bloomberg) -- European equity markets could further recover following the brisk rebound since last month's lows as "uncertainty and fear have peaked," according to Barclays Plc strategists.
The Covid-19 outbreak seems to be slowing, and that's "the only thing that matters for now," head strategist Emmanuel Cau wrote in a note on Wednesday. Additionally, the strong response from governments and central banks is reducing downside risks and could hasten the economic rebound, he said.
"This time, the size and speed of the monetary/fiscal support is unprecedented, which should prevent another painful credit crunch, reduce the permanent loss of output and help the recovery, while banks are in good shape."
The Stoxx Europe 600 has bounced 16% since March 18 and hit a one-month high on Tuesday, but remains 25% below its Feb. 19 all-time high. With the pandemic now quickly spreading in the U.S., European stocks could well outperform their American peers over the next year, Cau said, adding that he sees the European benchmark advancing to 365 points by year-end, suggesting 13% upside from current levels.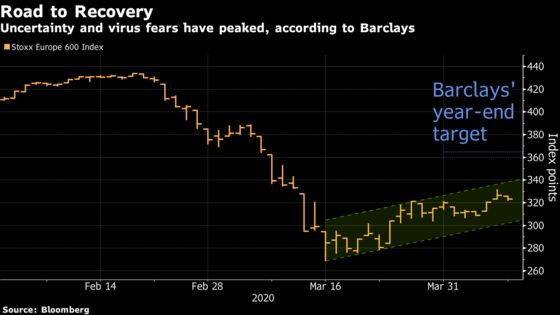 "We continue to believe equities offer an attractive risk-reward on a six to 12 month horizon and will end the year higher," Cau said. Barclays favors a balanced allocation between cyclicals and defensives, with a positive bias toward quality stocks, as further economic pain may still be on the cards.
Although he expects a brief recession, the strategist warned that the pandemic will have long-lasting effects on society, the economy and financial markets.