Barclays Faces Expulsion From European Blue-Chip Index on Brexit
(Bloomberg) -- The steepest annual decline in Barclays Plc's shares in seven years is putting the British bank in danger of losing its coveted place in the Stoxx Europe 50 index.
The lender, which has come under pressure from an activist investor to shrink its trading business, has lost about 17 percent of its market value this year as Brexit-related fears weigh on U.K. banks. That's pushed it down to the bottom of the blue-chip European benchmark, which is followed by tracker funds, and would make it the first to exit when a new member joins.
And German industrial gas giant Linde is the company poised to take its place, according to calculations by Landesbank Baden-Wuerttemberg's index analyst, Frank Klumpp.
"There is nothing in the way for Linde to enter the index," Klumpp said in a note on Thursday. In fact the company, which is merging with Praxair Inc., would need to lose more than 20 billion euros ($23 billion) of value relative to the other index members to miss out.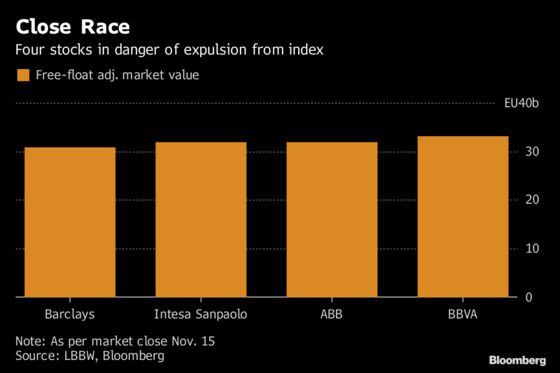 Inclusion in widely-tracked indexes is crucial for companies as the market is increasingly dominated by passive investment funds. Such funds accounted for 30 percent of all Europe-focused equity investment funds at the end of 2017, according to the Bank for International Settlements. Expulsion from the Stoxx Europe 50 index would force exchange-traded funds tracking the index to sell the stock as they realign portfolios to include the index's new constituents.
Barclays's free-float adjusted market value is 1 billion euros less than Italy's Intesa Sanpaolo SpA, the second-smallest in the index. Switzerland's ABB Ltd. and Spain's Banco Bilbao Vizcaya Argentaria SA are also potential drop-out candidates.
"We expect a close race until the stock performance on Nov. 30 will provide a final decision about who has to go," Commerzbank AG index analysts including Achim Matzke wrote in a note on Monday.
The Stoxx Europe 50 Index lists blue-chip stocks from across Europe, including the U.K. The Index provider will announce its changes to the gauge on Dec. 3 after the market closes. Stoxx declined to comment on any potential changes, while Barclays didn't respond to requests for comment.