Barclays, BNP Eye Goldman's Playbook for Private Debt
(Bloomberg) -- Barclays Plc and BNP Paribas SA, facing stronger competition from shadow banks for the lucrative business of lending to riskier companies, are considering setting up U.S. funds to finance the transactions.
BNP Paribas could raise outside money for its first such fund, known as a direct-lending fund, as soon as this year, according to a person with knowledge of the matter. Discussions at Barclays are more preliminary, but any fund set up could offer a broad range of financing options, according to separate people.
The banks are considering following the lead of Goldman Sachs Group Inc., which decades ago set up a direct lending arm that has helped it win fees. Their efforts have urgency now because banks have been losing business to direct lenders like Ares Management Corp., Antares Capital, and Golub Capital , which are making bigger and bigger loans. Representatives for Barclays, BNP Paribas and Goldman Sachs declined to comment.
Private lenders had $769 billion of assets under management as of the middle of last year, according to data provider Preqin. That growth is coming as the volume of loans that banks help put together for junk-rated companies, known as leveraged financing, has fallen about 17 percent this year, according to Bloomberg's tally of new U.S. deals, in part because of private loans.
"The private credit market has grown exponentially over the last 10 years," said Steven Ellis, co-head of the private credit group at law firm Proskauer Rose. "The beauty contests for deals have become more crowded as there is pressure from investors to put the money to work and, with the larger funds, write bigger checks."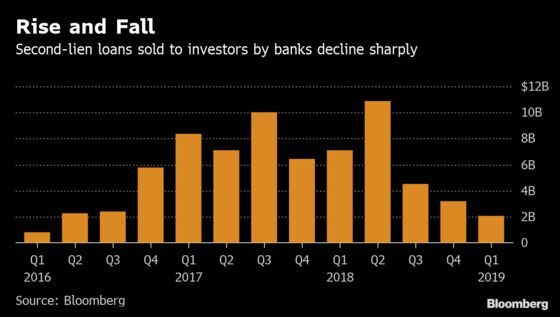 Carlyle Group LP recently used direct lenders for a fixed-rate $890 million unsecured term loan for its buyout of a majority stake in Sedgwick, a company that helps insurers manage claims. The private equity firm also borrowed $650 million from Goldman Sachs funds for a second-priority loan for its acquisition of StandardAero, an aircraft maintenance company, according to people familiar with the matter. A representative for Carlyle didn't immediately respond to a request for comment.
Before direct lenders had raised so much money, those kinds of financings might have come from the syndicated loan market, where groups of banks make loans and then sell the debt to investors and other lenders. But after the loan market froze late last year, the private equity firms that put together buyouts are increasingly interested in getting financing quickly, even if it means paying a little more interest. Syndicated loans can take weeks to put together, while direct loans can be faster and only slightly more expensive for the borrower.
Banks are eager to provide as many services as possible to private equity firms, which can be some of the most profitable clients on Wall Street. Lending for buyouts can translate to fees from underwriting loans, bonds, and eventually initial public offerings. U.S. banks get about a third of their investment banking fees from the $1.2 trillion market for loans to junk-rated companies, plus underwriting high-yield bonds and related services, according to Freeman Consulting Services. By doing the lending through their funds, banks can avoid tying up their capital in relatively risky loans.
As the direct lending market has grown, protections for lenders are showing signs of deteriorating. That could translate to losses for investors in the funds when the credit cycle turns, particularly in credit for smaller companies, known as middle-market loans.
"Some of the middle-market lending that is taking place is over the top," said Rick Rieder, chief investment officer of global fixed income at BlackRock Inc., speaking on Bloomberg Television. "Quite frankly some of it has been overdone."
Goldman Sachs has had done direct lending since at least 1996, which has helped it win a top position in underwriting leveraged loans. Its mezzanine debt and senior loan funds have invested a combined $70 billion since their inception and the firm is known for being able to take on large chunks of capital ranging from secured loans to preferred equity.
BNP's direct lending business would be housed in its asset management division, and would focus on loans for smaller private equity deals that have a first claim on assets, the person said. Barclays, meanwhile, is unlikely to make a final decision on any plan this year, one of the people said. The people asked not to be named because the discussions are private.
Direct lenders often make second-lien loans, which usually have a second claim on a company's assets if it goes under, while syndicated loans often rank first. Banks typically earn fees of at least 2 percent for first-lien loans and up to 3 percent on second-lien loans, according to Freeman Consulting Services.
To borrow from direct lenders, private equity firms typically pay higher interest rates than they would in the syndicated market but the rates are usually below the worst-case rates borrowers agree to pay on syndicated deals, according to people familiar with the market.
Increased investor appetite for private credit opportunities has allowed private debt funds to raise around $110 billion of capital in 2018, according to Preqin. A growing number of those funds are big enough to split debt deals that would have previously been syndicated to a large pool of buyers or brought to the bond market -- where the deepest pool of capital is available.