Banks Poised to Open Earnings Season With Surge in Volatility
(Bloomberg) -- Options investors are betting the big banks reporting this week will see much wider earnings-linked swings in their share prices than usual after historical volatility jumped to the highest levels since the global financial crisis.
Bank stocks have plunged about 35% so far in 2020, almost entirely erasing last year's 36% gain, which was their best annual performance in two decades. Options set to expire Friday show investors leaning generally bullish ahead of the reports. Of the six major financial institutions reporting this week, Morgan Stanley is the only one with puts outnumbering calls.
The average implied volatility for the six banks is about 97%, compared with an average 37% ahead their fourth-quarter results in January. That's driven the average earnings-day options implied share move to 8.4%, versus a 2.9% average that was priced in ahead of the prior season's reports.
Trends among some individual banks have been "somewhat contradictory," Susquehanna derivatives strategist Christopher Jacobson said in an interview. "We've seen some upside June call selling in names including Wells Fargo and Morgan Stanley for example, which is likely overwriting existing stock positions in order to capitalize on the elevated short-term volatility. Separately, we've seen some straddle buying for July expiration, which is likely positioning for more volatility into the middle of summer."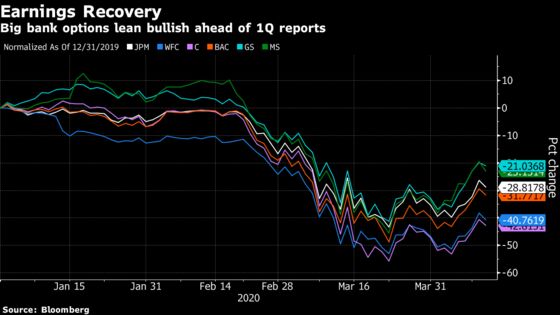 Here's what options imply for the six major banks reporting this week:
JPMorgan options reflect an earnings day move of 7.6%, versus the average move of 1.9% over the last eight reports when gains outnumbered declines five to three.

19% of total open interest is set to expire Friday with calls and puts evenly balanced
Current implied volatility is 89% compared to a three-month average of 73%

Citigroup options reflect an earnings day move of 10.5%, versus the average move of 1.6% over the last eight reports when rallies and declines were evenly split at four apiece

13% of total open interest set to expire Friday and calls outweigh puts by a rate of 1.4 to one, on the surface a bullish indicator
Current implied volatility is 120% compared to three-month average of 87%

Wells Fargo options reflect an earnings day move of 9%, versus the average move of 2.5% over the last eight reports; declines outpaced rallies at a rate of six to two

14% of total open interest is set to expire on Friday with calls outweighing puts at a rate of 1.31 to one
Current implied volatility is 105% compared to three-month average of 76%

Bank of America options imply an earnings day move of 8.1%, versus an average move of 2.2% over the last eight reports when gains outpaced declines six to two

14% of total open interest is set to expire on Friday with calls outweighing puts at a rate of 1.7 to one, which on the surface is a bullish indicator
Current implied volatility is 95% compared to three-month average of 76%

Goldman Sachs options imply an earnings day move of 7.3%, versus an average move of 2.6% over the last eight reports when gains and declines were split at four apiece

27% of total open interest is set to expire on Friday with calls outweighing puts at a rate of 1.5 to one, which on the surface is a bullish indicator
Current implied volatility is about 83% compared to three-month average of 72%

Morgan Stanley options imply an earnings day move of 7.7%, versus an average move of 2.6% over the last eight reports when gains outpaced declines seven to one

13% of open interest is set to expire Friday with puts outweighing calls by a rate of 1.12 to one
Current implied volatility is 89% compared to three-month average of 80%