Banks. Italy. Greece. And Now, Higher Volatility: Taking Stock
(Bloomberg) -- (Bloomberg News has renamed our European Equity Pre-Market column Taking Stock. It will appear every trading day at the same time as the previous column.)
Euro Stoxx 50 futures are little changed after U.S. stocks fell the most since June and volatility spiked higher, while yields hit multiyear highs. Later today will be the release of non-farm payrolls. There is a consensus of 184,000 but several economists are anticipating a number ahead of 200,000, that would likely send bond yields higher. Most attention will be on the pace of the wage growth that accelerated in August, a trend that may continue in the coming months, especially if other companies follow Amazon's path of wage increase. More signs of overheating are likely to weigh on equities. In the meantime, outflows gave no respite to European shares.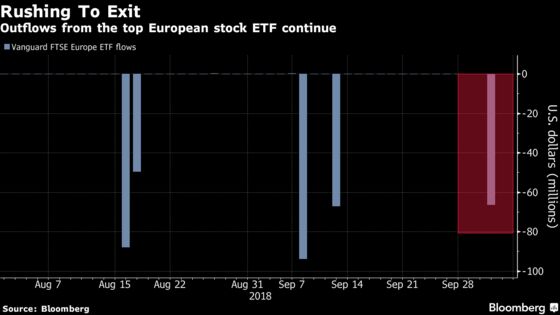 Banks are still the center of attention of investors and strategists. As Credit Suisse's Andrew Garthwaite highlighted, continental European stocks used to be a play on bund yields, but the relationship is broken, essentially because banks are no longer linked to bund yields. This anomaly can only be reversed by the banking sector's outperformance, which is anticipated by Garthwaite. The strategist is not buyer of other European shares, essentially because they are not cheap enough relative to their U.S. counterparts.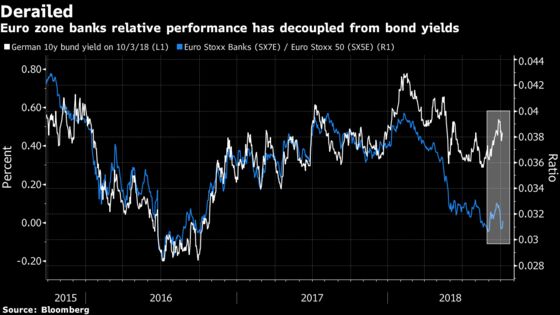 European Banks have been "terrible performers this year," Jonathan Stubbs wrote in a note to clients, nothing that they are back to "toxic" global financial crisis valuation levels. The de-rating has tracked lower ECB rate expectations but appears overdone versus fundamentals. "Investors are not positioned for inflation or higher ECB rates," Citi strategist Jonathan Stubbs wrote in a note to clients. "We think that is a mistake." Nevertheless, caution is probably advised on peripherals, as further development in the Italian debt target will hold the key to the performance of Italian banks, something to keep in mind.
Outside banks, tech will be the sector to keep an eye on after a selloff in tech stocks in both the U.S. and Asia. Chipmakers and chip-equipment firms, are likely to be active in Europe trading.
Luxury goods went out of fashion yesterday amid fear that China is cracking down on travelers returning home with suitcases full of luxury goods. Tightened border enforcement "could be phase 2 of China's efforts to repatriate consumer spending of its citizens," according to Exane BNP Paribas analyst Luca Solca.
Another theme that's been on the radar is volatility. The European gauge (V2X spiked above 16 yesterday, and is up 27% from September lows. Volatility is still historically low, which can be surprising given the uncertainty surrounding European equities. The same thing can be said about U.S. markets. Treasuries are selling off and rates are soaring, 10-year yields reached 3.23% -- their highest level since 2011, mid-term elections are coming, and a full-blown trade war scenario is in play, even more so after the the Chinese hack was revealed. Bottom line, volatility seems too low to both Credit Suisse and Societe Generale strategists.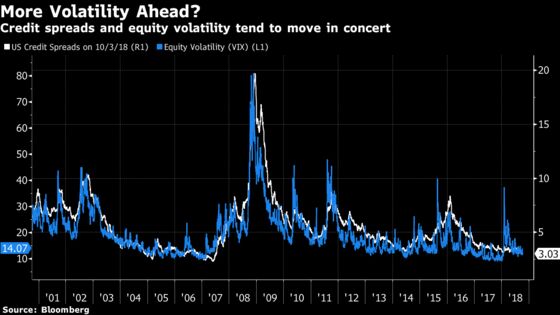 Elsewhere, Hong Kong property stocks have lost as much as 20% from highs and
Asian stocks rounded out a tough week with a further sell-off as technology companies were roiled by escalating concerns about their business in the U.S. Crude oil is bouncing slightly this morning after falling 2.5% on Thursday. Copper is showing further weakness, while gold is steady.
Finally, a few words on Danish jewelry-maker Pandora. The stock used to be one of hedge funds' favorite short story. Today's short interest stands below 6% of its float versus 12% in June. After a 40% drop in the share price this year, the firing of the CEO and the release of a profit warning, the stock has still not regained investors confidence, mostly because there is no CEO in place. The announcement of a new chief could be the trigger of a re-rating.
"Just eight months after short positions on the VIX suddenly blew up in February and forced a number of familiar hedge fund names to close their doors, short volatility trades are just a shade off their historical highs. Similarly, net long positions on the S&P 500 look uncomfortably high (SG target for end-2019 stands at 2,200, implying a 30% drop in the S&P)," Societe Generale strategists Arthur van Slooten and Alain Bokobza wrote in a note to clients.
NOTES FROM THE SELL SIDE:
Berenberg says it remains "deeply excited" about the health of the video games sector and sees many further trends to support growth and margin expansion in a note initiating coverage on EA and Activision Blizzard and making Ubisoft its top pick.
Jefferies gave Brunello Cucinelli its only buy rating of the street, citing recent weakness of shares and the unique characteristics of the brand that justify a premium vs most peers.
Unilever abandoned plans to consolidate its headquarters in the Netherlands, saying it would maintain a second base in the U.K., after mounting opposition from Britain-based investors.
Ahmed Badr is set to rejoin Credit Suisse in Dubai four years after Renaissance Capital hired him from the Swiss bank.
Regensburg has all the attributes typical of historic German cities: a 12th century bridge across the Danube, a 500-year-old bratwurst stand, a palace with a real-life princess—and a mayor who serves on the board of the local savings bank.
European industry risks being hobbled by its own environment policies unless Paris climate envoys come up with a universal plan for reducing emissions, according to one of Britain's largest money managers.
Watch European Tech After U.S., Asia Selloff But Samsung Beat
Danske's $1.5 Billion Capital Penalty Forms Buffer for Fines
Norsk Hydro Says Closing Alumina Plant Will Take 30-60 Days
Italy Stocks Still in Focus as Economy Forecasts Look Optimistic
Bridgepoint Considering IPO of Diaverum, Dagens Industri Reports
Carlsberg Cuts 74 Jobs in Germany, Jyllands-Posten Reports
Danske Made Up to EU8.5b Mirror Trades for Russia Customers: FT
EMS-Chemie Nine Month Net Sales CHF1.77 Bln
Sonae to Raise as Much as EU412m From Sonae MC IPO
Gazprom, Fortum Discuss Ongoing Construction of Nord Stream 2
Bosch to Face Racketeering Claims Over Diesel Cheating
Greencoat U.K. to Acquire Tom Nan Clach Wind Farm in Scotland
TECHNICAL OUTLOOK for Stoxx 600 index:
Resistance at 383.2 (50-DMA); 384.1 (200-DMA)
Support at 371.9 (Sept. low); 365 (38.2% Fibo);
RSI: 49.9
TECHNICAL OUTLOOK for Euro Stoxx 50 index:
Resistance at 3,413 (50-DMA); 3,460 (200-DMA)
Support at 3,315 (38.2% Fibo); 3,274 (Sept. low)
RSI: 48.8
MAIN RESEARCH AND RATING CHANGES:
UPGRADES:
Bodycote upgraded to buy at HSBC; PT 11 Pounds
Brunello Cucinelli upgraded to buy at Jefferies; PT 39 Euros
Eutelsat upgraded to buy at Goldman; PT 26 Euros
Intertek upgraded to buy at Berenberg
Kotipizza Group raised to neutral at OP Corporate Bank
Moncler raised to buy at Kepler Cheuvreux; Price Target 41 Euros
Rentokil upgraded to buy at Stifel; PT 4.10 Pounds
SES GDRs upgraded to neutral at Goldman; PT 19 Euros
TomTom upgraded to buy at Kepler Cheuvreux; PT 9 Euros
Veolia raised to outperform at Macquarie; Price Target 22 Euros
Antofagasta downgraded to sell at Goldman; PT 7.25 Pounds
Atrium Ljungberg cut to sell at SEB Equities; PT 160 Kronor
Balder downgraded to hold at SEB Equities; PT 255 Kronor
Castellum cut to sell at SEB Equities; Price Target 150 Kronor
D. Carnegie cut to hold at SEB Equities; Price Target 180 Kronor
Eurofins Scientific downgraded to hold at Berenberg
Helvetia downgraded to hold at Baader Helvea; PT 625 Francs
Henkel downgraded to market perform at Raymond James
Novo Nordisk cut to hold at Pareto Securities; PT 305 Kroner
Royal Mail downgraded to sell at Citi
Scout24 downgraded to hold at HSBC; PT 42 Euros
SkiStar downgraded to hold at DNB Markets; PT 259 Kronor
UBM Development cut to accumulate at Erste Group; PT 48 Euros
CLS Holdings rated new buy at Berenberg; PT 2.65 Pounds
CYBG rated new sell at SocGen; PT 2.90 Pounds
Opus rated new hold at Kepler Cheuvreux; PT 7 Kronor
Rosenblatt Group rated new buy at Arden Partners; PT 1.20 Pounds
MSCI Asia Pacific down 1.1%, Nikkei 225 down 0.7%
S&P 500 down 0.8%, Dow down 0.7%, Nasdaq down 1.8%
Euro down 0.1% at $1.1503
Dollar Index up 0.11% at 95.86
Yen up 0.02% at 113.89
Brent up 0.5% at $85/bbl, WTI up 0.7% to $74.9/bbl
LME 3m Copper down 1.2% at $6216.5/MT
Gold spot down 0.1% at $1198.6/oz
US 10Yr yield up 1bps at 3.19%
MAIN MACRO DATA all times CET:
9am: (SP) Aug. Industrial Production MoM, est. 0.7%, prior -0.26%
9:30am: (UK) Sept. Halifax House Prices MoM, est. 0.2%, prior 0.1%
9:30am: (SW) Aug. Industrial Orders MoM, prior 9.8%
10am: (IT) Aug. Retail Sales MoM, est. 0.1%, prior -0.1%
10:30am: (UK) 2Q Unit Labor Costs YoY, prior 3.1%
11am: (IT) Istat Releases the Monthly Economic Note
(IT) Bank of Italy Report on Balance-Sheet Aggregates