Banks Have Little to Fear From Lower Oil. They May Even Benefit
(Bloomberg) -- Banks can handle the energy-linked loans they've extended -- as long as oil prices don't drop much below $50 per barrel, analysts are saying.
Credit losses "may be fairly limited," as most energy companies should see no major operating issues with WTI above $50, and underwriting has tightened, Morgan Stanley's Ken Zerbe wrote in a note on Wednesday. If prices drop below $50, however, investment may slow "meaningfully." Below $40, watch out: "The environment could become quite challenging for the energy industry."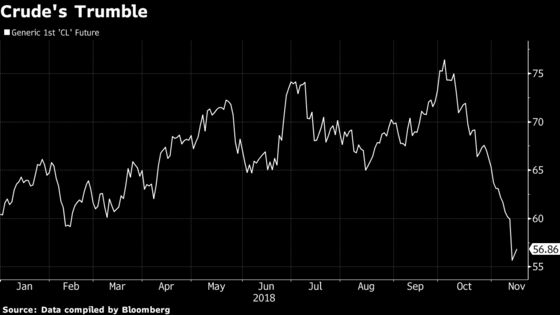 Zerbe flagged BOK Financial Corp., Cadence BanCorporation, Cullen/Frost Bankers Inc., CIT Group Inc. and East West Bancorp Inc. as among banks with the largest exposure to energy, along with Texas Capital Bancshares Inc. and Bank7 Corp..
KBW in a note earlier this week said that oil trading in the mid-$50s per barrel isn't a cause for concern, as leverage has been greatly reduced in most banks' energy lending practices in recent years. They'd be more worried if oil fell below the mid-$40s for a prolonged period of time. On Thursday, oil was holding steady at around $56 after snapping a record losing streak on Wednesday.
Banks' other businesses may get a boost from sliding energy prices. Deutsche Bank chief international economist Torsten Slok on Wednesday wrote that "lower oil prices will extend the economic expansion further," because they offer "good news for consumers and for energy-consuming companies."
Slok added that a higher dollar will be holding down U.S. inflation "at a time when the economy is close to overheating." That may be "exactly what the doctor ordered for the U.S. economy if you want the expansion to continue and the Fed to be gradual."