One of Asia's Top Banks Isn't Sold on the Digital Revolution
(Bloomberg) -- One of Asia's best-performing banks appears to disagree with the prevailing view that big spending on technology is the key to future success in the financial industry.
Malaysia's Public Bank Bhd. has delivered a 21 percent return to investors in its shares so far this year, the most among Asian banks with at least $20 billion in market value, data compiled by Bloomberg show. But its other distinction is a tight-fisted approach to the digital revolution sweeping the finance sector -- it ranked bottom in a recent Sanford C. Bernstein analysis of Southeast Asian banks' spending on technology as a proportion of total costs.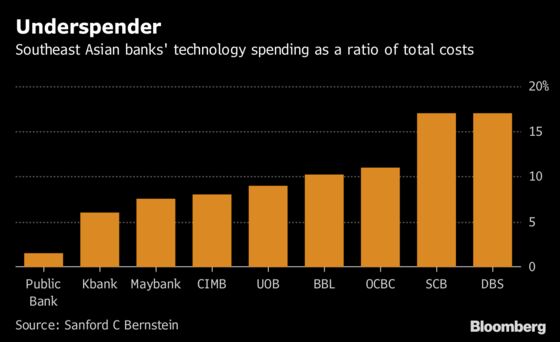 Now Bernstein is warning that Public Bank's out-sized returns are under threat from the need to boost investment.
"It's a star that's past its prime," said Bernstein analyst Kevin Kwek. "Underspending in technology, including in cyber security, would mean relatively higher exposure to attacks, or expectations to spend more to defend against those threats, which are always there," he added in a phone interview.
Many banks in Southeast Asia argue that high spending on technology is essential because of burdensome compliance requirements and the impending threat from Chinese fintech giants Ant Financial and Tencent Holdings Ltd., which have started offering their payments services outside their home country. And a number of Asian firms have been hit by cyber attacks, underlining the importance of tech budgets.
A representative for Public Bank declined to comment on its technology spending.
As its peers continue to invest in technology, the gap with the Kuala Lumpur-based bank may increase further, according to Kwek. "The low-cost model may no longer work as well," he wrote in a report published last week.
Worsening returns due to the need for more expenditure, and a potential share sale by the bank's founder, are among the reasons why Kwek has a 'sell' recommendation for Public Bank.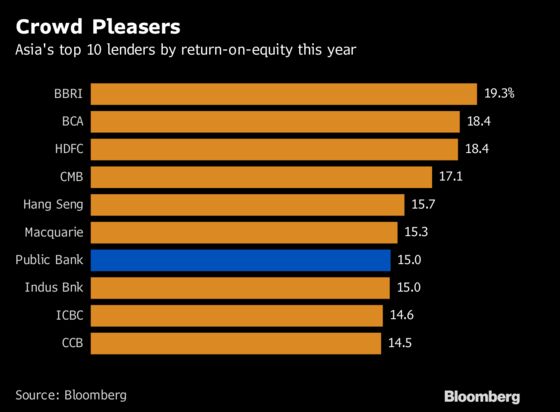 Others are more sanguine, arguing that some banks' outlays on technology isn't necessarily money well spent.
"We are happy with them," said Gerald Ambrose, chief executive officer of Standard Life Aberdeen Plc in Malaysia, which owns Public Bank shares. "They don't want to invest huge amounts of money like other banks and then find themselves at a dead end and have to turn back."
Public Bank's 88-year-old billionaire founder Teh Hong Piow, Malaysia's second-richest man, is due to step down as chairman at the beginning of next year. Teh, who owns about 23.5 percent of the bank, hasn't made clear who will succeed him, nor what he intends to do with his shares.
Teh is one of three people in Malaysia with regulatory approval to hold more than 10 percent of a financial institution. The approval applies to him personally and can't be passed on to someone else.