Decision-Day Guide: Bank of Korea Poised to Join Rate Hikers
(Bloomberg) -- The Bank of Korea looks set to end a year-long hiatus by increasing borrowing costs, adding to a flurry of interest-rate hikes in Asian emerging markets this month.
Governor Lee Ju-yeol has delivered hawkish signals in recent weeks, indicating concern about rising household debt and the need to pay attention to the widening gap between Korean and U.S. interest rates to prevent any sudden capital outflows.
Two dissenting voices calling for an increase at the last policy meeting in October add to expectations for a move in Seoul on Friday.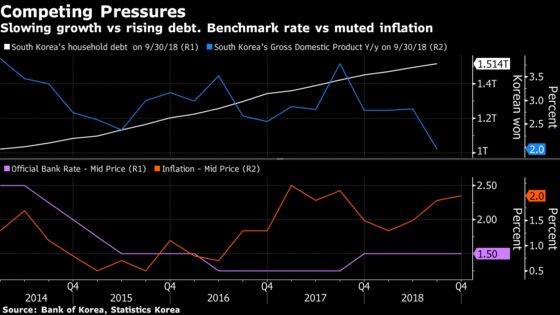 Fourteen of 18 economists surveyed by Bloomberg forecast the BOK will lift its seven-day repurchase rate by 25 basis points to 1.75 percent. It would be the first change since November last year, when the central bank raised its benchmark from a record low 1.25 percent.
"Since a Fed rate hike in December seems certain, the BOK may want to increase the rates at least once," said Park Chong-hoon, an economist at Standard Chartered Bank in Seoul. "A widening rate gap could trigger outflows of foreign capital while also seeing domestic investors shift their view to overseas assets with higher returns."
Click here to see what Governor Lee has said about capital flows in Asia.
The central bank typically announces its decision at about 10 a.m. in Seoul, and shortly after this releases a statement. Governor Lee holds a press briefing starting at 11:20 a.m.
Foreign investors have sold a net $25.3 million in shares in Korea's Kospi index so far this month after offloading $3.5 billion in October, according to Bloomberg data.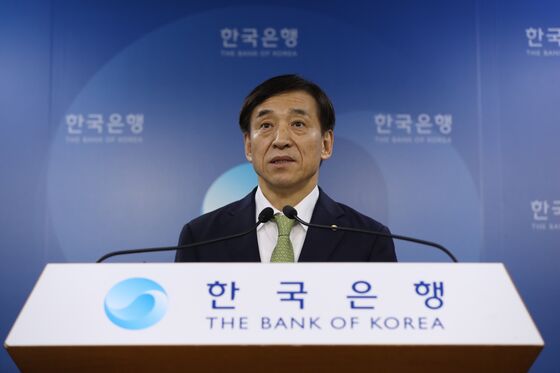 Governor Lee has also said any rate hike will only come if it doesn't put significant pressure on growth and inflation, and he's indicated that a single increase in the policy rate wouldn't constitute a move away from accommodative policy.
Click here to read about rate hikes in other Asian economies.
Korea's gross domestic product grew just 2 percent in the third quarter from a year earlier, the slowest pace since 2009, while inflation in October hit the central bank's price target for the first time in just over a year.
Most economists forecast rates to still be at 1.75 percent in the third quarter of next year.
The extended period of low rates since the global financial crisis has fueled record household debt in Korea, making rate hikes a tricky balance for the BOK as it seeks to restrain risky borrowing without pushing consumers with existing loans into financial difficulty.