Greek Lenders Rise After Bank of Greece Unveils Salvage Plan
(Bloomberg) -- Greek lenders recouped some of this month's losses Friday after the Bank of Greece released details of a complex plan to lift much of the burden of their bad loans.
The Athens benchmark bank index rose as much as 3.6 percent after hitting a record low earlier in the week. Eurobank Ergasias SA, which reported a third-quarter profit on Thursday, rose as much as 4.9 percent, while Piraeus Bank SA gained 4 percent.
The Bank of Greece's plan, published late Thursday afternoon, foresees the transfer to a special purpose vehicle of a significant part of banks' non-performing loans at net book value, along with a portion of the deferred tax credits booked on the lenders' balance sheets.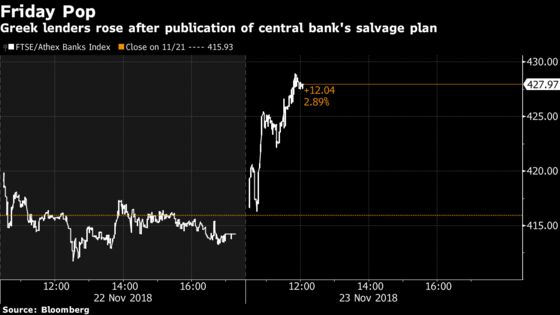 The nation's bank stocks have plunged this year amid worries they won't manage to escape the shackles of non-performing exposures without burning more capital -- which they currently lack. When the central bank's proposal was first reported by Bloomberg News, the stocks initially rallied, but soon resumed their rout.
The government is also working on a plan to lessen the burden for borrowers of modest means, while yet another proposal envisages a special purpose vehicle for bad debt that might involve a government guarantee and uses state cash buffers.
"Such a plethora of different proposals, and the absence so far of one clear-cut plan evaluated and agreed by all interested parties, certainly makes the final solution a very complicated task," analysts at Euroxx Securities in Athens wrote in a client note on Friday.
The Bank of Greece's plan aims to cut the ratio of non-performing exposures to a single-digit ratio within three years. To finance the transfer, the SPV will proceed with a securitization of three classes of notes, the central bank said. Before that deal, banks are expected to restate, in consultation with European supervisors, their targets for bad-loan reductions.
The central bank estimated that transferring about 40 billion euros ($45 billion) of NPEs and 7.4 billion euros of tax credits would immediately reduce the stock of bad loans by 47 percent. At the same time, capital adequacy ratios for all systemic banks will remain in double digits.
The "developments in Greece are very welcome," Adam Farkas, executive director of the European Banking Authority, said on Thursday before the details were announced. "Some additional action was needed. We are very supportive."
Non-performing exposures stood at almost 89 billion euros as of the end of June. That figure is equivalent to about half the country's gross domestic product, and more than half of the outstanding credit to the private sector.
Skeptics with short positions on Greek lenders say that the issue is too big to be addressed without a new round of capital injections that would wipe out existing shareholders.
The Bank of Greece's proposal still needs to satisfy the European Central Bank's supervisory arm and the European competition directorate.