Loans Are in High Demand. Will European Banks Deliver? 
For a potentially severe recession to be short-lived, a credit crunch in Europe has to be avoided. State-guaranteed loans are being put in place and banks can make use of capital-relief measures. But the banking sector's earnings power is notoriously weak and when bad debts related to coronavirus disruption pile up, the question is whether they will keep lending.
The Stoxx 600 Banks Index is down 33% this year, lagging the 23% drop for the wider European equity benchmark, as concerns over soured corporate debts and margin erosion amid low interest rates has been weighing on the industry.
But overall, banks are in better shape in terms of capital than they were before the global financial crisis. Natixis analysts say that in their coverage of 24 European banks, lenders have enough capital to absorb "an increase in risk-weighted assets of 88% on average."
A lot of banks were able to pay high dividends and/or buy back shares in the last few years, so it seems that they have excess capital that could be put to use elsewhere to support the economy. The prospect of dividend cuts might not bode well for banking stocks, but are certainly less harmful than highly dilutive capital raises.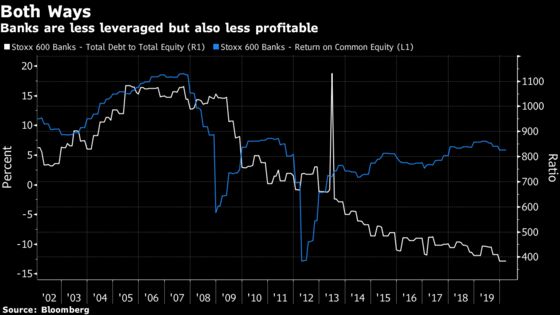 However, if capital and liquidity aren't reasons for concern, earnings are. Citigroup Inc. analysts suggest that profits could drop close to zero in a scenario based on European Banking Authority stress tests and the peak cost of risk observed during the 2010s.
True, banks could further eliminate costs, but that could take time to materialize and often comes with some front-loaded expenses. As Berenberg analysts put it: with banks' earnings and capital under pressure, capacity for reductions may be constrained. Banks including HSBC Holdings Plc and Deutsche Bank AG are also pausing job cutting in the current environment to prevent further human distress.
All in all if things turn sour, then banks may curtail their appetite for risk in order to preserve profit. And that could trigger a nasty chain of events, as corporates may not get the credit they need and default, eroding earnings.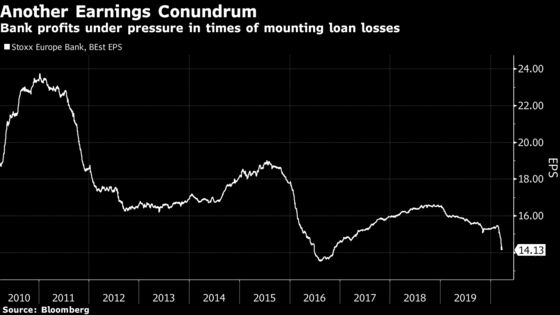 But the challenge for banks goes beyond pure number crunching and balance-sheet analysis. The issue of financing and liquidity is pressing, with many businesses going from full-speed output to zero revenue as more countries go into strict lockdown. Consequently, there's the need for a flood of loan requests to be handled urgently, which could prove to be a challenge in the current situation and requires coordination with state authorities on guarantees. Carmakers and airlines are among the industries that are already seeking new credit lines to help deal with the fallout from the virus.
Broadly speaking, if the flow of credit isn't keeping up with the declining economic activity, things could deteriorate quickly.
Then there's the bond market. While bank loans have declined over the past decade, BBB-rated bonds have quadrupled to 900 billion euros ($991 billion).
Rating downgrades are very likely over the next few months and the high-yield bond market might not be able to absorb all the fallen BBBs.
"Corporate refinancing will need the banks to re-intermediate some of the bond market," analysts at Bank of America write, signaling another potential hurdle for banks.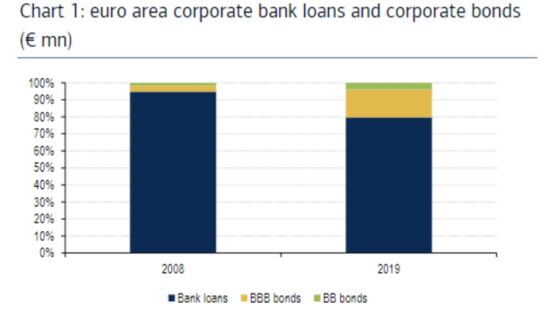 Merck Fink's Chief Investment Officer Daniel Kerbach agrees. "Even if only a few of the doubtful rating cases slight into non-investment grade, a downward spiral might be unavoidable," he says.
And once again we're back at the table with the authorities because to absorb that loan demand banks might need more regulatory flexibility, Bank of America says.