Bank Indonesia Governor Says Rate Near Peak, No Cut Seen Yet
(Bloomberg) -- Indonesia's central bank Governor Perry Warjiyo said the benchmark interest rate is near its peak, but he doesn't see room yet to ease policy.
Bank Indonesia will continue to maintain "sound, consistent and transparent" policy and provide guidance to financial market participants as global and domestic markets evolve, he said in an interview on Thursday with Bloomberg Television in Yogyakarta, Indonesia. He added it was "difficult to say" whether a rate cut was on the cards.
After hiking rates six times last year, policy makers in Southeast Asia's biggest economy are getting a breather from a more cautious Federal Reserve. With investors scaling back bets on U.S. rate increases this year, foreign inflows have returned to Indonesia and the currency has rebounded.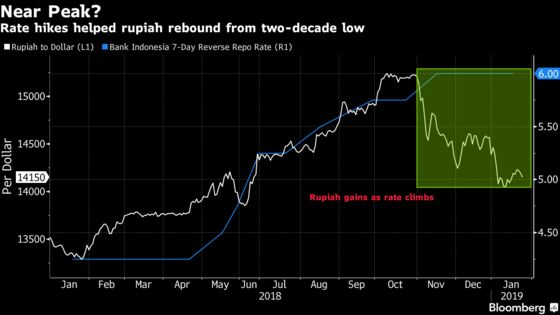 Warjiyo said the BI's November rate hike was "pre-emptive" and "took into account the possibility of Fed fund rate hikes in December and March." He sees two rate hikes from the Fed this year.
The central bank is maintaining a hawkish stance, with a focus on stability, while supporting economic growth through macroprudential measures, Warjiyo said.
"So even though our rate is 6 percent, we will ensure there is ample liquidity for banks to continue lending to support growth," he said.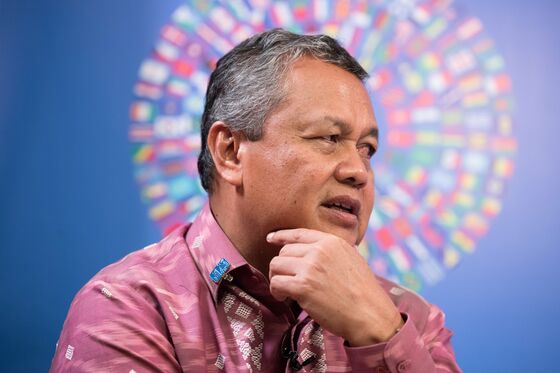 The rupiah has gained 7.4 percent against the dollar in the past three months, the most among Asian peers, and was up 0.3 percent to 14,150 as of 9:15 a.m. in Jakarta on Thursday.
Warjiyo said the currency is still "undervalued" based on the central bank's valuation of the exchange rate.