Bank Indonesia Hikes Rates for Fifth Time to Curb Currency Rout
(Bloomberg) -- Indonesia's central bank raised its benchmark interest rate for the fifth time since May as it intensifies efforts to shield the rupiah from a global rout in emerging markets.
The seven-day reverse repurchase rate was raised by 25 basis points to 5.75 percent, in line with the forecasts of most of the 37 economists in a Bloomberg survey. Eight predicted more aggressive action of a 50 basis point increase.
Thursday's move brings the total amount of rate hikes in the past four months to 1.5 percentage points, making Bank Indonesia one of the most proactive central banks in the region this year in fighting the market turmoil that's hit developing economies. Governor Perry Warjiyo is on watch for more volatility as the Federal Reserve continues to raise interest rates and trade tensions escalate, adding to risks of foreign outflows.
"Bank Indonesia's stance remains hawkish," Warjiyo said. "We will keep trying to take pre-emptive and ahead-of-the-curve measures."
Those measures depend on "global and domestic developments and dynamics, including ones related to the development in the Fed's policy normalization, trade war tension, and global investors' behavior on Indonesia," he said. Future policy action "will be data dependent," he added.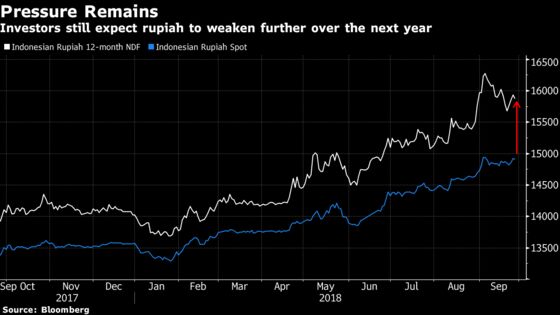 The decision came a day after the Fed raised its interest rate for a third time this year and signaled more tightening to come. Shortly after Bank Indonesia's move, the Philippine central bank raised its benchmark rate by 50 basis points to 4.5 percent, taking its cumulative rate hikes since May to 1.5 percentage points.
What Our Economists Say...
It is not clear whether rate hikes since May and government measures to reduce the current account deficit are enough to stem the decline in the rupiah, though the currency has stabilized ahead of testing the key 15,000 level against the U.S. dollar.

We see vulnerability in the rupiah persisting into next year. Trade war angst has yet to abate, and Indonesia's current account deficit will probably need to establish a clear narrowing trend to tamp down concerns

INDONESIA INSIGHT: Bank Indonesia Maintains Vigilance on Rupiah

-- Tamara Henderson, Bloomberg Economics
The rupiah has lost 9 percent against the dollar this year, the worst performer in Asia after India's rupee. The currency fell less than 0.1 percent to 14,914 against the dollar as of 3 p.m. in Jakarta on Thursday.
Aside from rate hikes and foreign-exchange intervention, authorities have also imposed import curbs to help narrow the current-account deficit.
"This decision is consistent with efforts to lower the current-account deficit until it reaches the safe limit and to maintain the attractiveness of domestic financial markets so that we can further strengthen Indonesia's external resilience amid the current global uncertainties that are still high," Warjiyo said.
The central bank sees economic growth at 5 percent to 5.4 percent this year, with inflation staying inside the 2.5 percent to 4.5 percent target in 2018 and 2019.
"The move is in accordance with the continuous pressure on the rupiah from the trade account and foreign net selling of rupiah-denominated assets," said Wisnu Wardana, an economist at PT Bank Danamon Indonesia. "We still expect one more 25 basis points rate hike by the end of this year."
Bank Indonesia also announced the launch of domestic non-deliverable forward market, which it says will provide an alternative for companies wanting to hedge their dollar exposure and help curb rupiah volatility. The move is seen as complementing the government's earlier measures to improve exports and moderate imports.