Bank Indonesia Cuts Rates and Outlook as the Recovery Stalls
(Bloomberg) -- Indonesia's central bank cut its benchmark interest rate to a record low and downgraded its growth outlook amid fears that a resurgence in Covid-19 cases is slowing the economy's recovery.
Bank Indonesia slashed the seven-day reverse repurchase rate Thursday by 25 basis points to 3.5%, the lowest level since the rate was introduced in 2016. The move was expected by 22 out of 29 economists surveyed by Bloomberg, while seven forecast no change.
"This decision is consistent with the forecast for inflation to remain low and the rupiah's maintained stability, as well as continued steps to boost the national economic recovery momentum," Governor Perry Warjiyo said in Jakarta. With room for further cuts limited, he said the bank could rely on alternative measures like quantitative easing and macroprudential policy to boost growth.
Policy makers have signaled growing concern over the economy, as Indonesia's first recession in more than two decades threatens to spill over to this quarter after movement curbs were reimposed to control a surge in cases. Recent economic indicators have shown marked declines in imports, retail sales and consumer confidence.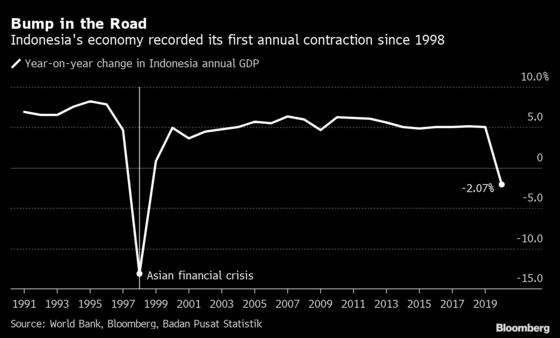 The benchmark Jakarta Composite Index reversed earlier gains after the decision, falling 0.4% at the close. The rupiah trimmed the day's losses, down 0.04% at 14,025 to the U.S. dollar.
"Our assessment is that BI's rate-cutting cycle is now over," Krystal Tan and Sanjay Mathur, economists at Australia & New Zealand Banking Group, wrote after the decision. "With U.S. yields on the rise, BI has less leeway to trim its policy rate without undermining the relative yields of domestic financial assets."
Bank Indonesia, which had expected the economy to turn around as early as the fourth quarter of last year, has taken a more cautious tone recently. Warjiyo said the bank now sees gross domestic product expanding 4.3% to 5.3% this year, down from an earlier forecast of 4.8% to 5.8% -- even as he noted how vaccine rollouts are boosting the global economic outlook.
For Indonesia too, he said, a faster vaccine rollout would be a "game changer" for the economy. The government has made it mandatory for all eligible Indonesians to take the vaccine.
What Bloomberg Economics Says...

"Bank Indonesia has already cut its growth forecast for this year, despite doubling down with rate cuts and looser lending rules today. We expect more cuts in the growth forecast and policy rate to come -- once it's clear that it will take some time to reopen the economy and rekindle discretionary spending."

-- Tamara Mast Henderson, Asean economist
Thursday's rate cut is the first of 2021 in Asia-Pacific, after central banks across the region eased policy last year amid the pandemic. Indonesian monetary authorities have cut rates by a total of 150 basis points since the start of 2020.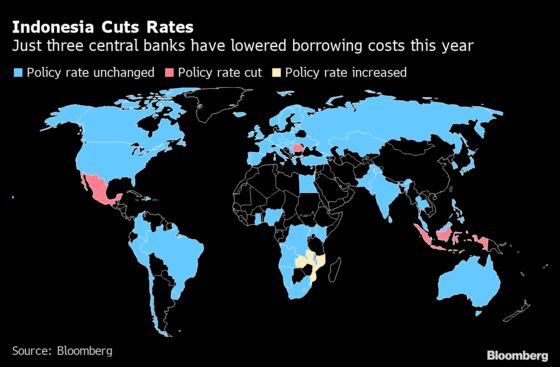 Warjiyo said the bank is keeping macroprudential policy accommodative, relaxing rules for property and vehicle loans. The governor urged banks to lower lending rates for customers more quickly, but cut this year's forecast for bank lending growth to 5%-7%, from 7%-9% previously.
After warning recently of "too low" inflation in Indonesia's consumption-driven economy, Warjiyo said Thursday that price increases are still seen within the 2%-4% target range this year. Consumer prices rose 1.55% in January from a year earlier, and economists polled by Bloomberg expect inflation to remain weak this quarter at 1.62%, down from a previous estimate of 1.82%.
Wisnu Wardana, an economist at PT Bank Danamon in Jakarta, noted that headline inflation has stabilized and energy costs are on the rise.
"The question lingers on whether the central bank still has room to ease further," he said. "We argue that it's very limited in terms of policy rate."