Lockdown Winners Keep Winning, Luxury Gloomy: Earnings Wrap
(Bloomberg) -- Europe's second-quarter earnings season kicked off with more positive news from some of the companies that have benefited from the coronavirus lockdowns. The outlook for the luxury-goods sector, however, remains gloomy.
Online fashion retailer Asos Plc predicted earnings this year will be near the top end of market expectations. Other companies that have benefited from the pandemic saw their shares gain on higher guidance for the year, including breathing-equipment maker Draegerwerk AG and pet products retailer Zooplus AG.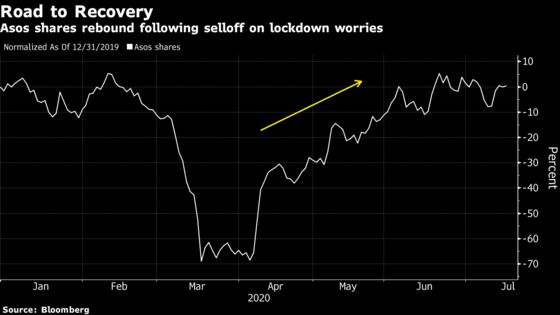 Chip-equipment supplier ASML Holding NV also remained positive on the outlook for the semiconductor industry, saying it still expects growth in 2020. Demand for computers and devices has been strong as employees improve their hardware setups to work from home, the company said.
The picture for luxury is distinctly darker. Burberry Group Plc Chief Executive Officer Marco Gobbetti said it's going to take some time for the luxury business to get back on track. The maker of the iconic trenchcoat forecast that sales this quarter will decline as much as 20% from a year earlier, after a 45% drop in the preceding period.
The results that companies roll out over the next few weeks, and their forecasts for the rest of the year, are key to the direction of the stock market for the remainder of 2020. The Stoxx Europe 600 Index has surged about 32% since its low in March, as investors bet that the coronavirus pandemic would be short-lived, with corporate earnings and the global economy recovering in the second half.
Second-quarter results will probably be the "worst on record" but are in a good position to beat very low expectations, Morgan Stanley Co. strategists said in a note Tuesday. Forward guidance will be more important than the numbers, strategists led by Ross MacDonald wrote.
Here's the top virus-related earnings news for today by sector.
Burberry's comparable retail sales slumped 45% in the fiscal first quarter that ended in June, less than the 48% drop predicted by analysts. The fashion brand saw "particularly strong" demand for its items in China and Korea. The company will cut 500 jobs globally, part of a plan to lower expenses by 55 million pounds. The shares dropped as much as 8.1% with analysts saying the level of caution in the outlook will disappoint investors.
Italian luxury house Brunello Cucinelli SpA said the pandemic had "strongly influenced" the first half and growth won't be back in line with long-term targets until 2022. The stock fell as much as 2.3%, with Jefferies saying the drop in sales looks in line with expectations.
Online clothing merchant Asos said full-year profit will be at the top end of analyst expectations after third-quarter sales rose by 10% despite the pandemic. Its U.K. division was hardest hit in the quarter, with sales falling 1% amid social-distancing capacity constraints in its warehouses and lower demand for its occasionwear during lockdown.

Analysts said

the update suggets a strong recovery and Asos is well-placed to manage risks to its outlook. The shares, which had already more than tripled from their March low, erased gains and fell 2.7%.
In Germany, online pet products retailer Zooplus increased its full-year profit forecast to at least 40 million euros, compared with a previous prediction of at least 20 million euros, after earnings in the first half of the year were significantly above expectations. The strength in the second quarter reflects lower customer acquisition costs and operating efficiency gains due to higher sales, Warburg said. The stock jumped as much as 7%.
Meanwhile, U.K. electronics retailer Dixons Carphone Plc said full-year profit fell by more than 50% because of the performance in its mobile division and Covid-19 closures, and it anticipates consumer spending will weaken in the second half. The company isn't issuing guidance on electricals sales or profits for the year given the uncertainty. Morgan Stanley said the firm's uncertain outlook could weigh on estimates and shares dropped as much as 12%.

Home furnishings seller Dunelm Group Plc said its online sales doubled in its fiscal fourth quarter. The stock rose as much as 2.4%. Morgan Stanley said trading for Dunelm has been "encouraging."
Semiconductor-equipment maker ASML topped third-quarter estimates and said its growth expectations for 2020 are largely unchanged. It said its operational capabilities are pretty much back to normal, though the CEO said the virus is "not yet behind us." Analysts at Kempen said the results were "good" but might not be good enough, though the guidance is better. The shares initially rose but then reversed, falling as much as 1.5%.
Swedish telecom firm Tele2 AB reported second-quarter earnings ahead of expectations, with sales slightly ahead, and it reinstated its previous plans on paying an extraordinary dividend. Handelsbanken said the results read-across well for Telia Co. AB and Telenor ASA. Tele2 rose as much as 4.4%, leading gains in the Stoxx 600

Telecoms

index.

Finnish peer Elisa Oyj was the biggest faller in the index. It said its second-quarter sales were a small beat and said data usage on its mobile network surged 40% in the quarter, but Handelsbanken

noted

weakness on the important mobile services revenue line.

Dutch satellite navigation systems firm TomTom NV's second-quarter sales and gross margin exceeded analysts' estimates. The Amsterdam-based company declined to provide specific guidance but said it has seen "early signs of recovery." The shares rose as much as 11% with analysts saying the update is "reassuring."
Swedish lender Svenska Handelsbanken AB topped expectations across most metrics, with second-quarter net income and its capital buffer topping estimates and credit losses declining. Shares fell as much as 3%, however, with Goldman Sachs noting a miss in core profit before provisions. CEO Carina Akerstrom said the pressure on net interest income should ease in coming quarters.
Peer SEB AB, however, said its second-quarter income was lower than expected and its credit-loss provisions were higher than analyst estimates. Headline profit beat but the higher provisions and a miss on core revenue excluding trading offset this, Goldman Sachs said. The shares dropped as much as 4.8%.

The two dragged on the Stoxx 600 Banks index, the second worst-performing sub-index behind

telecoms
Draegerwerk said its ventilators and face masks are in strong demand, meaning the pandemic is boosting its sales and profit. Based on preliminary figures for the second quarter, Draegerwerk saw order intake jumping 34%, while sales rose 24%. After pulling its forecast in April, the company now expects growth of as much as 22% for sales and a profit margin of as high as 11%, more than double its previous prediction at the mid-point. The shares jumped as much as 12%, taking the year-to-date gain to 56%, and Warburg said the second-quarter numbers are "outstanding."
Ophthalmology-equipment maker Carl Zeiss Meditec AG's shares reversed early gains after reporting a fall in nine-month earnings and revenue. The stock dropped as much as 3.3%, having risen as much as 1.9% earlier.
Swiss market services firm DKSH Holding AG said it still couldn't provide an outlook for 2020 owing to limited visibility, but said it has seen signs of improvement recently, albeit at lower levels. The shares rose as much as 1.5% and UBS said the resilience of the firm's profit is positive.
Swedish hotel investor Pandox AB said its second-quarter earnings dropped 63% but that the recovery in the hotel market so far has been stronger than expected, albeit fragile and with the risk of a second-wave hanging over the industry. Its shares rose as much as 6.8% in Stockholm.