Bank Bears Get Wake-up Call After $8.5 Billion ETF Carnage
(Bloomberg) -- After missing out on last year's huge bank rally, exchange-traded fund investors may soon be scrambling to catch up as industry giants surprise the market with stellar earnings.
Fueled by a surge in trading, JPMorgan Chase & Co. posted the best year for any U.S. bank in history while Citigroup Inc. surpassed its chief's profitability target. The renewed enthusiasm that sent their stocks rallying could be a boon for financial ETFs -- following two years of massive outflows that left investors badly positioned for a potential turnaround. The $1.4 billion iShares U.S. Financial Services ETF, ticker IYG, touched a record high on Tuesday.
Optimism gathered pace last quarter as investors dumped defensive shares in favor of those that benefit from an economic pickup. Financial companies saw their shares eclipsing the 2007 peak for the first time in December, with banks rallying more than 35% in 2019. Meantime, the industry's ETFs had $8.5 billion in outflows for the year -- the most of any group, according to data compiled by Bloomberg.
"It may not happen immediately, but I do think as we move through the year, those outflows will shift considerably," said Matt Maley, an equity strategist at Miller Tabak & Co. "The next rally leg should be the one where people realize, 'Oh my gosh, I'm missing the big long-term change in trend."'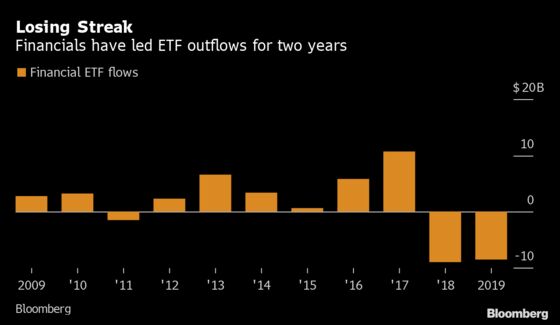 Pre-market volume in the IYG rose to the highest since 2017, data compiled by Bloomberg show. It had almost $370 million in outflows last year, the biggest in the fund's history.
The fresh optimism outweighs some of the worries hanging over the sector. Lenders may struggle as the Federal Reserve is likely to keep rates fairly steady, limiting banks' margins. Investors will also need to wrestle with shifting regulatory expectations, as the presidential election heats up and candidates offer widely differing visions for financial companies.
"The earnings resiliency of the big banks in such a historically low interest-rate environment perfectly illustrates that they are much more than yield-spread proxies -- especially when looking at their respective trading results," said James Pillow, managing director at Moors & Cabot Inc.