A Bad Year for U.S. Stocks Delivers Banner Growth for China ETFs
(Bloomberg) -- Exchange-traded funds that invest in China are emerging as some of the biggest winners from the worst year for U.S. stocks in a decade.
Funds that buy Chinese stocks added $6.4 billion in 2018, the most in Bloomberg data going back to 2004. Almost two-thirds of all flows into single-country ETFs headed to the world's second-largest economy as investors looked to diversify their holdings, a recent report from State Street Global Advisors showed.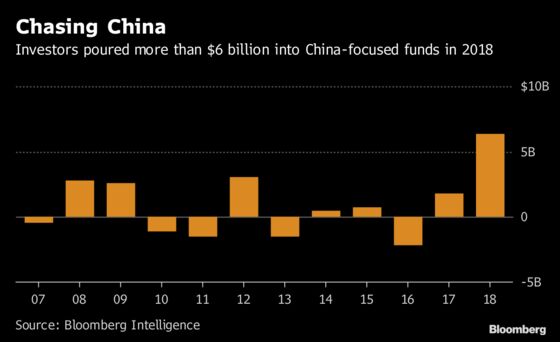 It's more than a little ironic, given China's equity market plunged further than stocks in the U.S. Still, with the Federal Reserve raising interest rates and mounting uncertainty over the outlook for U.S. growth, American investors are shopping overseas. Global funds, as well as those focused on developed and emerging markets, also expanded last year, according to State Street.
"We saw de-risking from tactical investors in the U.S.," Matthew Bartolini, head of Americas research at State Street's ETF business, said in an interview last week. At the same time, "we saw some risk-taking, if we think about it from that perspective, outside the U.S. using single-country exposures."
Investors are counting on China to use fiscal stimulus to fuel the economy. Some came last week when the country's central bank freed up liquidity following disappointing manufacturing data and a four-year low for stocks.
The iShares China Large-Cap ETF, ticker FXI, added $2.5 billion in 2018, its best year since 2008.
"It's just investors trying to tactically allocate outside the U.S. and potentially try to pick the bottom within Chinese equities," said Bartolini. "We saw investors looking out at the horizon, knowing that the Chinese government was continuing to reaffirm their opinion of the economy."