Japan Stocks Plunge on Their First Trading Day of 2019
(Bloomberg) -- Japanese stocks fell as global growth concerns dominated the first trading day of 2019, and investors are in no rush to get back.
The Topix index dropped 1.5 percent, with a group of electronics makers weighing the most, while the blue-chip Nikkei 225 Stock Average slid 2.3 percent. Both gauges briefly fell by more than 3 percent in early trading, as Japan resumed trading after a four-day New Year's holiday. The yen weakened slightly versus the dollar after gaining 2.4 percent during the previous four sessions.
Kyle Rodda of IG Group Plc and Noriyuki Sato of Asset Management One SP Pte say the downward trend in Japanese equities isn't likely to be reversed anytime soon as major central banks cut back on stimulus against a slowing global economy. To Kazuyuki Terao of Allianz Global Investors, valuations don't look cheap enough as earnings are likely to be revised down going forward.
"The trend remains to the downside, for Japan and global equities," said Rodda, a Melbourne-based market analyst for IG. "Markets are currently pricing in a significant economic slowdown, both in the U.S. and China."
U.S. equities sank Thursday after weak ISM manufacturing data and a revenue forecast cut at Apple Inc. Factory numbers posted earlier this week in China also showed deterioration, amid the U.S.-China trade war and a fading technology boom.
Apple supplier Murata Manufacturing Co. lost nearly 10 percent in Tokyo on Friday, among the biggest drags on the Topix. The prospect of weaker iPhone sales also dented TDK Corp. and Alps Alpine Co. China-linked factory automation and consumer goods names including Yaskawa Electric Corp. and Shiseido Co. were among the biggest decliners on the Nikkei 225.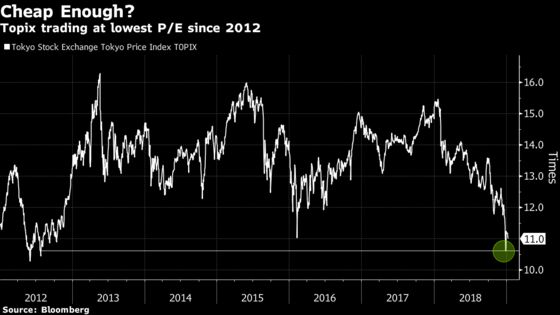 The Topix tumbled 18 percent in 2018, its worst annual performance in seven years. That's helped drive the gauge's estimated price-to-earnings ratio for the next 12 months down to 11 times, the lowest level since July 2012. Still investors remain wary. The cost of hedging against declines in the Nikkei 225 Stock Average is near its highest level since February 2016, according to three-month options data.
What's most alarming is the impact global tapering by central banks is starting to have on equities, according to Sato, the chief investment officer for Asset Management One's Singapore unit. He notes it's been about a year and half since the U.S. Federal Reserve started reducing its balance sheet, leading to less liquidity in markets. This will be "tough" on both local and global equities in a risk-off market, he says.
"This bear market trend won't be stopped unless central banks take action," he said.
IG's Rodda agrees. The Fed "is pulling liquidity out of the market at a time where market participants are screaming for support," he said.
Terao, chief investment officer at Allianz Global in Japan, is most focused on corporate earnings reports, which he says will likely disappoint investors. Yoshinori Shigemi, Tokyo-based global market strategist at JPMorgan Asset Management, is also concerned over how the stronger yen will impact local earnings.
"We are probably seeing risk-averse behavior in global investors and that could drive up the Japanese yen further," Shigemi said.
In Singapore, Andrew Jackson, head of Japanese equities at Soochow CSSD Capital Markets is telling his clients to be selective.
"There will be no free rides this year," he said. "It's a great stock-picking market, but there is still a lot of selling to be done."