European Stocks Plummet as DAX Is Set to Enter Bear Market
(Bloomberg) -- The ghost of ugly October is back upon us and even Santa is helpless.
The optimism over the U.S.-China trade talks is gone, all European sectors are in the red, Germany's DAX index is set enter a bear market, while U.S. stocks tumble as investors rush for the exits. The Stoxx Europe 600 Index is having its worst day since February, trading at the lowest level since December 2016.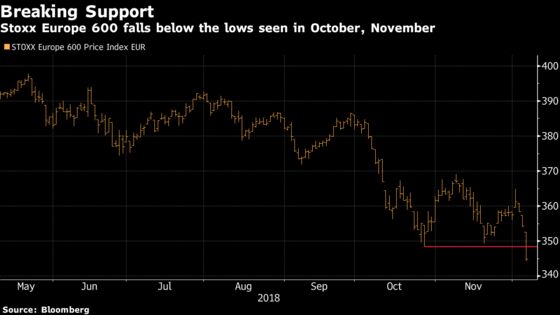 Cyclical sectors are being especially hard hit by the latest bloodbath as concern about China-U.S. trade relations deepens following the arrest of Huawei Technologies Co. Chief Financial Officer Wanzhou Meng. The Stoxx Europe 600 has lost as much as $1.4 trillion in market value since the end of September as fears of rising U.S. interest rates and slowing economic growth fueled the sell-off.
"Santa will ride on a bear this year," said Guillermo Hernandez Sampere, head of trading at the German asset manager MPPM EK. "We need to accept the negative sentiment. Any newsflow is used to sell the market."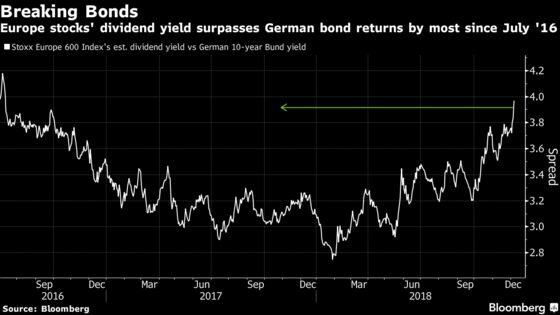 Volatile politics and slowing economic growth have sparked $62 billion of equity outflows from Europe this year, the worst performance of major regions. Markets globally jumped on Monday amid optimism that the U.S. and China reached a trade truce. As it turned out, it was too early to celebrate.
"A lot of investors tried to catch the falling knife on Monday following the news on the truce between the U.S. and China. That was a big mistake," said Jerome Troin-Lajous, a cross-asset sales trader at Louis Capital Markets in Paris. "It's the 10-year yield that dictates the equity market's direction, and the signal you get from there is unequivocal: don't buy the dip."
U.S. Treasuries rose on Thursday as investors sought safety, sending the benchmark yield down to 2.89 percent.
The Stoxx Europe 600 dropped more than 2 percent for just the fourth time this year on Thursday. The slide of as much as 2.8 percent is more than any full-day decline since June 2016, when the U.K. voted to leave the European Union.