Automated Grocery Warehouses Could Be the Future for Strip Malls
(Bloomberg) -- Strip mall landlords should consider building automated warehouses for grocery store tenants to capitalize on the newfound demand for online delivery brought on by the coronavirus pandemic, BTIG LLC said in a note Monday.
Analysts Michael Gorman and James Sullivan said real estate investment trusts that own shopping centers should consider adding "microfulfillment centers" (MFCs) to food markets already on their properties. The analysts said those facilities can cut down the time it takes to fulfill an online order to five minutes from one hour and enhance productivity in a number of other ways.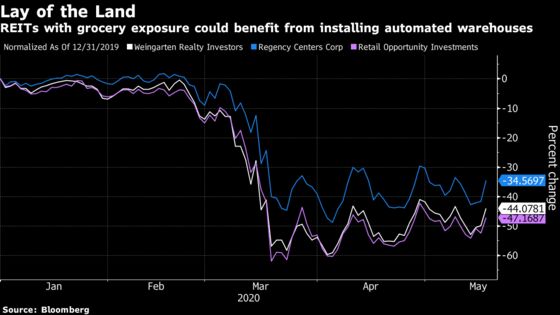 According to the note, spending on groceries is now as much as 90% of the average consumer's food budget due to the pandemic, after previously accounting for "well under 50%". Online shopping represented as little as 2% of the sector before the Covid-19 outbreak. But some projections outline an online sales gain of 20% to 40% during the pandemic, with online grocery's market penetration estimated at as much as 40%, the note said.
MFCs can help overcome the tiny profit margins and inefficiencies that previously characterized online food shopping. The facilities can be added to existing stores and become operational in a matter of weeks, and reduce the number of workers who used to scour aisles to complete orders, BTIG said. The analysts noted costs usually range from $2 million to $3 million and said a number of chains, including Walmart Inc., are already experimenting with such additions.
The benefits to the grocery store would be passed on to REITs that own the property by enhancing productivity and making those tenants "stickier." Modified locations could be easier to fill in the event of a vacancy, according to the note.
"Well located, well capitalized grocery-anchored landlords should partner with their tenants to roll out MFC facilities whenever possible," the analysts wrote. BTIG highlights three strip mall REITs as standouts: Regency Centers (price target $40), Retail Opportunity Investments (PT $10) and Weingarten Realty (PT $19), all of which are rated buy.